Resource Centres
---
Calrossy's Resource Centres are the hub of the school providing a relaxed and informative environment where students can research using physical and internet facilities.
---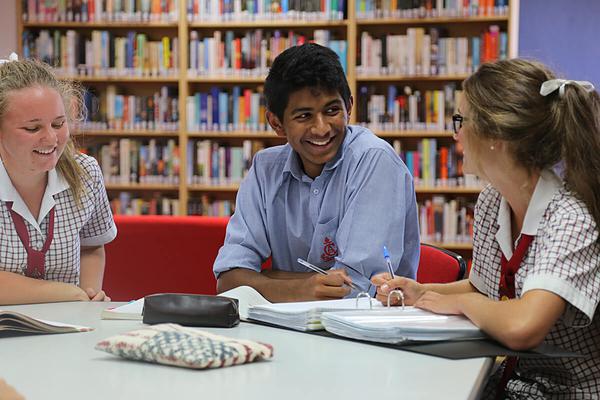 Fully supported by Wifi students can study and use their BYOD devices in comfort on lounges, at tables and in separate senior studies for quiet or group work.
Desktop and laptop computers are available for applications such as Adobes Creative Suite, AutoDesk CAD and Zotrax for 3D printing. Binding facilities are available for presentations and colour printing is available to all students where assessments are not submitted online. As a textbook hire school all textbooks are provided for student use digitally via their ReadCloud App. Where digital copies are not available physical copies are borrowed through the circulation desk.
The Resource Centre is the venue for after school help supported by subject teachers to assist students with homework, assessments and revision of class content.
For our boarding students, Prep occurs from 6.30 to 8.20pm, Monday to Thursday and on Sunday night if required in computer labs on the Secondary Girls Campus, and at Simpson House, with access to desktop computers for the Secondary Boys.
Extensive Junior fiction is also available for students Years 7 to 9 and a separate senior fiction collection is available for Years 10 to 12. The Junior collection is organised into genre format to assist students to locate preferred reading interests.
Brisbane Street Campus hours:
Monday – Thursday 8.15am – 5.00pm
Friday 8.15am – 4.30pm
William Cowper Campus hours:
Monday – Thursday 8.15am – 4.00pm
Friday 8.15am – 3.45pm