A new uniform for Calrossy
Around 15 months ago we formally commenced an enquiry to consider an updated whole school uniform suite for Calrossy. School uniform is an emotive topic and it quickly became apparent that a wide range of views existed amongst our community. A wise Head of a big independent school warned me last year that a recipe for 'peace' was to avoid any talk of altering uniforms, particularly in a longstanding school. Given that the topic of uniform change had been discussed prior to my arrival in 2017 however, I believed that now was the time to bring our uniform together in a way that incorporates us as a single school.
Why change?
Following the success of the 2016 implementation of common P -12 PE uniforms, the question arose as to whether Calrossy should similarly adopt a common uniform linking Junior School and Secondary boys and girls into a single school 'look'. It is a current reality that when our students walk outside our grounds, we don't present as part of the same school. I have fielded many questions around why the Senior girls and boys look so different or the Junior School uses alternative colours.
The adoption of the Centenary Crest as the new School Logo in 2020, and the new School structure in 2021, means it is timely that Calrossy adopts a uniform that celebrates and recognises these changes.
Our uniform suppliers Noone work with hundreds of schools across Australia, so have been included as an integral part of the process, utilising their experience and expertise. I personally believe that uniform is a component of school identity and to have a new uniform that is visibly identifiable as Calrossy across our campuses would be ideal.
Questions about the Change
With any prospective change, doubts and questions arise as to whether the new will be better than the old. It is a current reality that many parents quite like the separate Junior School (primary) green and white uniform. Some are also attached to the Calrossy tartan (girls) and the blue and taupe uniform adopted when Secondary Boys were a separate school. Alumni often love what they wore at school and nostalgia dictates sadness with the phasing out of a previous dress. I wanted our process to move beyond personal opinions (of which there are many), using some principles to be used in moving ahead. Some ideas behind the proposed change involved:
Creating a one school uniform progression – with clear transition from Prep - Year 12
Developing a look that is distinctly and clearly identified as Calrossy
Providing comfort in contemporary and smart uniforms
Flexibility suitable for a range of body shapes and types
Seasonal appropriateness to Tamworth's climate variations
Cost effectiveness for parents as children progress through the School
Recognising transition through the School.
Feedback
Last term we asked for feedback on the uniform proposal. Thanks to all who contributed. We received a good range of quantitative and qualitative data on the proposals, coming from parents, students and staff. Some loved the themes developed and others disliked them, with a mixture of the school community sitting between the two poles. Many constructive suggestions were provided.
Common feedback included:
Favour of maintaining red and blue blazers (boys and girls) as part of the uniform at appropriate stages
Providing a trouser option for girls, particularly in winter when cold
Establishment of a distinctive uniform for students in Years 10 - 12
Clarity is required around hats and headwear across the School.
Questions that were asked included:
Are blue blazers/blue pants together (boys) functional in look and wear?
Will darker coloured dresses be too hot for summer?
Will the new suite be more expensive for parents?
If adopted, how long will the transition time be?
The Process
All of the questions/comments received on style, colour, design have been collated and forwarded to Noone Imagewear. In response, they have come up with a final uniform suite, responding to the overall feedback. See the Summer and Winter uniform storyboards below.
The proposed suite sees all Calrossy students wearing predominantly red and navy. The same blazer is worn for boys (navy) and girls (red) between Year 3 – Year 9 with a senior blazer adopted in the final three years. It provides a distinct progression through the School with a different tie used in each separate campus of the School. Secondary girls wear the same skirt for both winter and summer (though heavier and lighter material options may be made available).
Designer Jonathan Ward (RM Williams and who advises Noone) wrote of our proposal,
"I have worked on a lot of uniforms with city and rural independent schools separate to my design work over the years with RM Williams and I am sure your school community will love this strong and distinctive approach with the designs and options available for the students.
I love that it is classic yet contemporary utilising the pale blue from the past with the wonderful and distinctive Calrossy Red as your hero with the highlight stripe throughout the uniform. It also ticks all the boxes with a gentle rite of passage for the students and looks fit for purpose which I think is really important component."
I am conscious that whilst some in the community do not like every aspect of the overall design (including some of the original consultative group), we will never arrive at total consensus on the final product. A majority of respondents though, were in support of change.
The New Uniform FAQs can be accessed here
Final Feedback
In order to gauge the overall response of our School Community (students, parents and staff), I will be seeking final feedback on the full suite of uniforms as proposed by Noone Imagewear. I will also respond to both the Uniform group and the P & F in the next few weeks.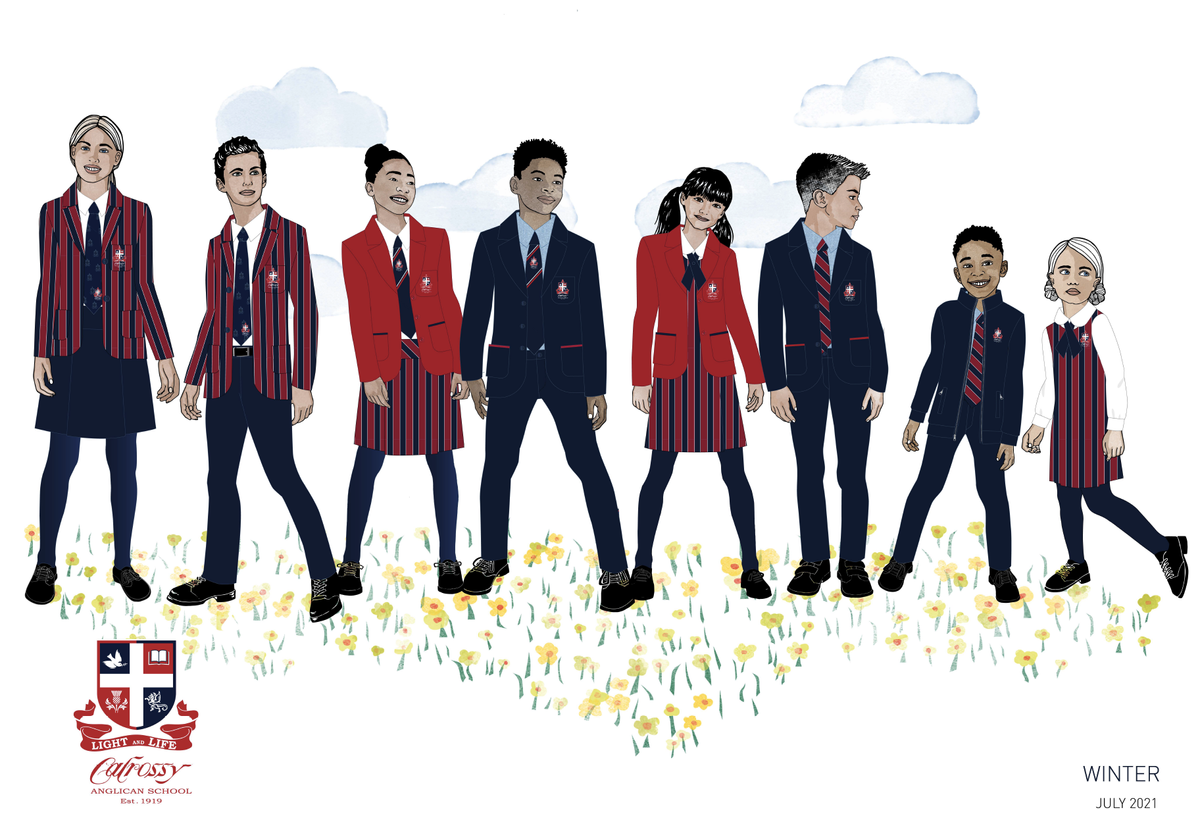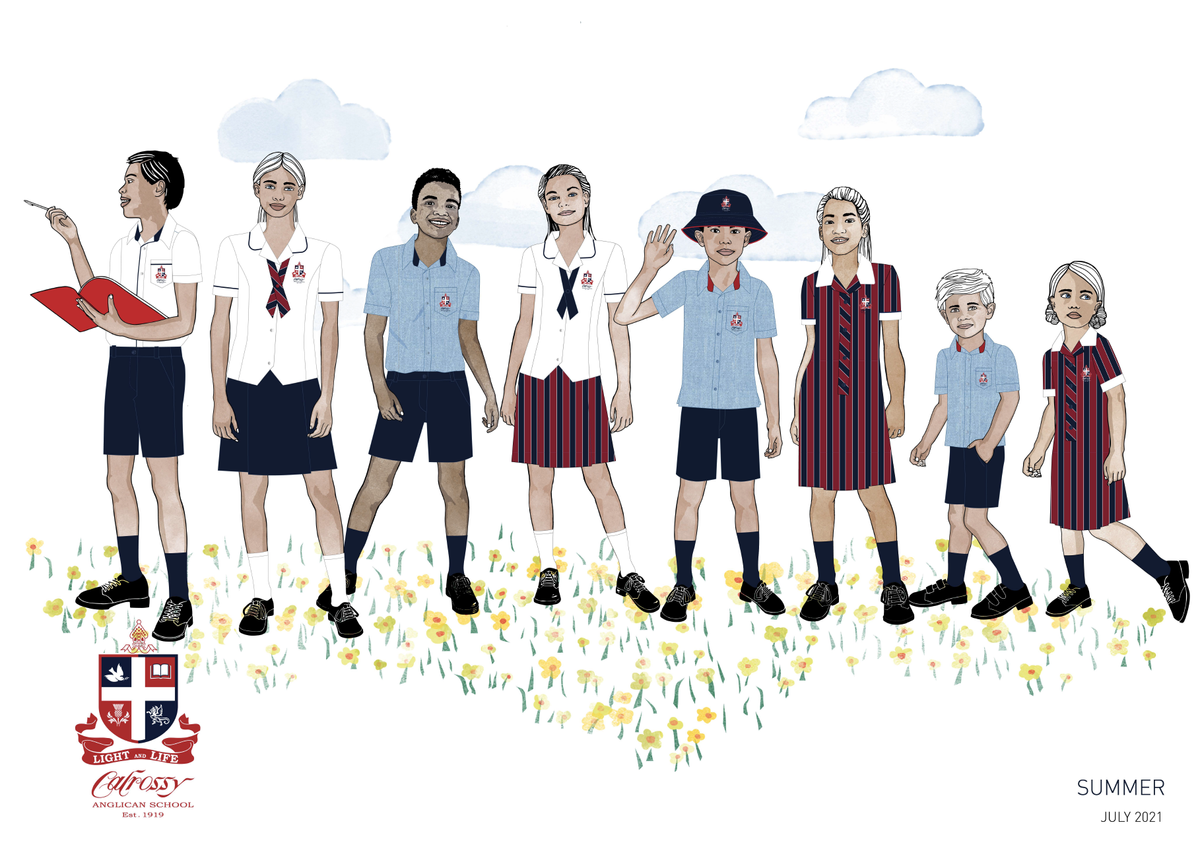 Covid-19 has made our consultation process challenging. However, I believe that moving to a new uniform, based on the feedback of many in the School Community, will be a positive move for Calrossy into the years ahead.
David Smith
Principal Calrossy