Acknowledgement to Country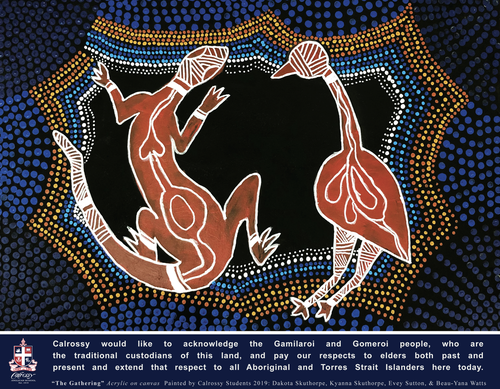 Calrossy would like to acknowledge the Gamilaroi and Gomeroi people, who are the traditional custodians of this land, and pay our respects to elders both past and present and extend that respect to all Aboriginal and Torres Strait Islanders here today.
As we share our knowledge, teaching and learning within Calrossy Anglican School, we also pay respect to the knowledge embedded forever within the Aboriginal Custodianship of Country.
Our featured image "The Gathering" is an Acrylic on Canvas painted by Calrossy Students Dakota Skuthorpe, Kyanna Skuthorpe, Evey Sutton and Beau-Yanna Watts in 2019 and is also displayed at the entry points of both Calrossy Anglican School Brisbane Street and William Cowper Campuses.