Australia Day Awards honours for Calrossy Student Abbie Peet
Communities across the Tamworth region came together on Australia Day to welcome new Australian citizens and also crown the winners of the annual Australia Day Awards.
Tamworth Region Mayor Russell Webb sent his congratulations to each community member who was nominated for and won an award and said,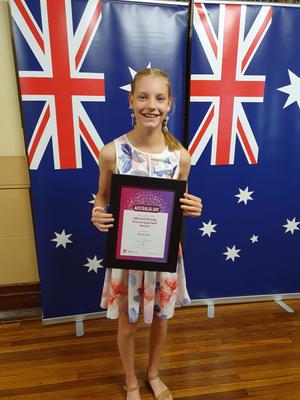 "We are fortunate to have many exceptional individuals in our community, and I enjoyed taking the time to meet the award recipients in Tamworth after the ceremony."
Calrossy Year 8 student Abbie Peet was one of these individuals. Abbie was awarded The 2021 Mitchell Brady Encouragement Award. Despite living with cerebral palsy, Ms Peet has had an incredible year competing in the Australian Para Athletic Events where she currently holds three records in the Under 15's Division. She is described as a determined young lady who always runs with a smile on her face, and is a posotive role model to others with special needs and who always takes the time to encourage others to get involved in community activities.
Congratulations Abbie, you have done us proud.