Building works start for Vision 2021
The Multi-use Classroom block is on track and on budget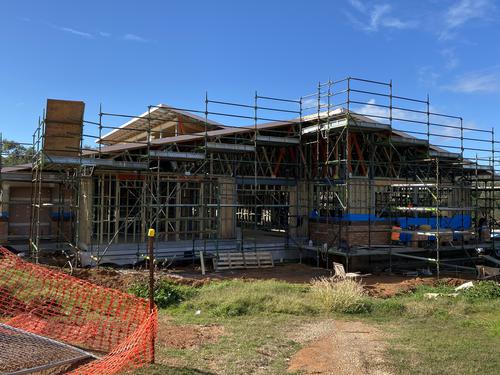 Since breaking the ground on our new multi- use classroom block project in February this year, our contractors have worked tirelessly to bring this building out of the ground in a safe and efficient way while dealing with the challenges of weather and the additional challenges around COVID-19. Business Manager Hugh Castleden said that it's a credit to all the Calrossy Project Team members along with all the involved to be able to keep this project on time and on budget amidst such trying circumstances.
We are now at the stage where our staff can tour the site and the first tour was held with Head of Science Mary Koch, Chair of the Infrastructure Committee Todd McDonald and Director of Operations Andrew Brechin inspecting the new purpose built facilities.

Our community will notice the installation of the external windows and cladding before the trades and services turn their attention to the internal finishes. The architect's vision of large teaching spaces to provide our secondary academic staff and students new opportunities in these engaging spaces will be a major benefit going forward for our school.
The Master Planning Committee is keeping their focus firmly on the ongoing development of facilities at Calrossy. These regular meetings are seeing the vision coming off the drawing board for the second stage of development.