Caitlin is loving being one of Calrossy's first distance education students.
"eCalrossy has allowed my husband and I, and Caitlin to spend much more time together – priceless!"
Calrossy currently has a Year 7 class with 12 students and a Year 8 Class with 10 students from areas of the state like Narrabri, Broken Hill, Barraba, Tibooburra, Whitecliffs, Walgett and Sydney. The idea sprang from demand after Calrossy recognised some families needed flexibility and increased efficiency in the delivery of distance education said Calrossy Deputy Principal, Mark Doran. He said rural families were also wanting solutions for children who weren't quite ready for boarding. eCalrossy is the answer.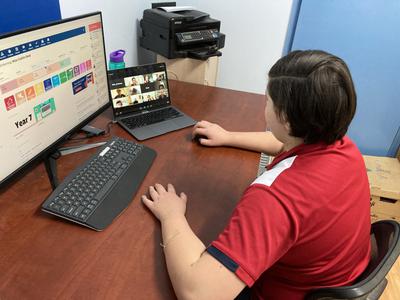 In the Program students are provided with the technology and learn in a supported, connected environment alongside other students studying the same way. For some children it can be the best of both worlds. Students get to know their classmates from the comfort of home while developing interpersonal skills and like-minded relationships, which includes residential sessions in the school holidays. At the same time students have access to the proven quality education of Calrossy, which has consistently been the leading school in the North West region based on HSC results. This year eCalrossy will continue with Year 7 and 8 students, with a view to expanding to Year 9 in 2023, providing a pathway to boarding in the senior years.
"So far the feedback from families and staff involved in eCalrossy has been very positive, it builds on the resources and strength Calrossy already has as a leading day and boarding school," said Mr Doran.
Caitlin Reid is loving the change in her distance education delivery. She lives roughly an hour east of Bourke, halfway between Nyngan and Brewarrina, on a sheep and wheat farm called The Marra. Caitlin is currently in Year 8 at eCalrossy, after her mum Heather Whigham-Reid tore an ad out of the ICPA magazine. The rest is history.
"I was interested in the possibility that a high school was advanced in its approach to education and forward thinking enough to have been preparing this for years before COVID," Heather said.
After years of using government distance education and homeschooling, among other options, Heather said the benefits were enormous.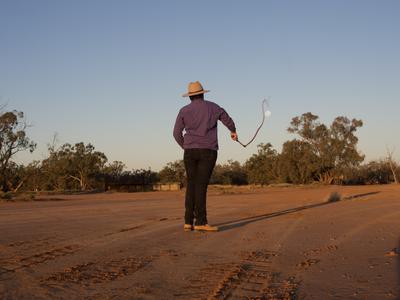 "We had been running two homes for the last six years to allow the children to attend face-to-face school. However, a second home places a different, emotional drain on a family… eCalrossy has allowed my husband and I, and Caitlin to spend much more time together – priceless!"
"Using eCalrossy allows Caitlin to have access to the teachers who deliver the lessons over Zoom… the benefit to her learning is that she gets instant feedback, correction and encouragement and learns much better that way. Getting a printed return four weeks after doing the work, loses the immediacy of the opportunity for learning," Heather said.
To find out more about eCalrossy and Secondary Girl and Boy Boarding options at Calrossy call the registrar today on 5776 5100, visit www.calrossy.nsw.edu.au, or come and see us at the Dubbo Boarding Expo on May 13 and 14 or the Moree Boarding Expo July 21 in 2022.