Calrossy staff make a splash for Cancer research
Story and photos courtesy of the Northern Daily Leader
TEACHERS took a dip in wintry conditions to raise some ice-cold cash for cancer research at Calrossy in what was an Olympic effort.
While teacher's aide Maree Keating was busy practicing her dance moves for Saturday night's Stars of Tamworth Dance for Cancer, she dared her colleagues to take the plunge on Friday if she hit her fundraising goal of $10,000.
And, it didn't take long for staff to notch up the tally, braving the cold and making a splash as her total money raised reached $10,600 on Friday afternoon.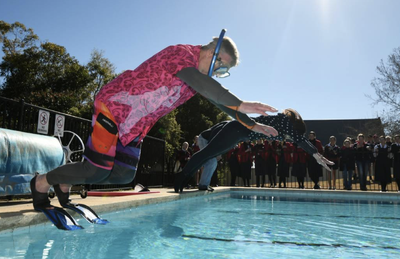 Calrossy principal David Smith alongside teachers Libby Blinman and Bart Leach took centre stage on the podium as the whole school cheered them on.
"I'm just in awe of this School for their support, it's been amazing and in a really short space of time," Ms Keating said.
"I had given up on trying to get to $10,000. On Tuesday night I was $2200 short and by Wednesday at 6pm I made the $10,000.
"So mostly the comrades here got behind it and they raised $2200 in less than 24 hours."
Ms Keating and her dance partner Gary Sinclair will put their talent to the test on Saturday night at Tamworth High School, joining a group of local identities raising funds for Cancer Council services, cancer prevention programs and research.
It's a cause that is extremely close to her heart.
"Too many of my darling friends, family, and colleagues have not been winners in the battle against cancer," she told the Leader.
"It's their faces and their memories that have inspired me and got me out of my comfort zone, that's for sure."
"I'm really wrapped, thrilled to bits."
The teachers were awarded medals for their Olympic efforts - gold, silver and bronze with Mr Smith taking out the podium finish for bringing the tally to the $10,000 mark.