Calrossy puts a new spin on the tradition of House Music.
The tradition of House Music continued at Calrossy this term but with a whole new look.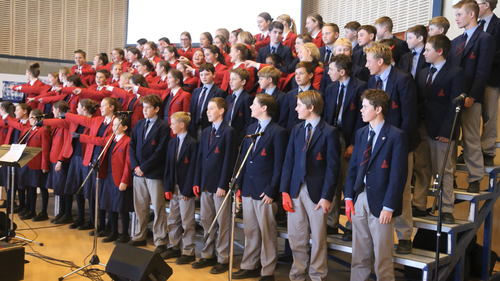 Secondary students from years 7 to 12 took part in the singing/musical competition in three categories;
Year 7-9 large choral group
Year 10-12 large choral group
Senior small ensemble or solo.
The Year 7-9 students had a rock theme and belted out some classics, with Nicholls taking out the win with their rendition of the Starship classic "We Built this City".
Meantime, the seniors large choral groups had to choose between the Beatles classic, "Help" and The Foundations "Build Me up ButterCup". Sheean took out that title, with a clever combination of the two songs, "Help Me Up Buttercup", arranged by students Peter Donaldson and Ben Carriage and conducted by Tamar Leibenson. But at the end of the day it was three solid performances by Cuthbert that saw the green and gold team take out the title of overall House Winners.
For Calrossy parents and students, there is an extensive photo gallery of this event on The Hub.