Calrossy best in the region HSC 2022
Calrossy has cemented itself as the leader in quality education in the region, with 2022 HSC results once again among the State's best.
Calrossy was the only school in the New England North West listed in the State's Top 150 list.* Calrossy ranked 118th on the prestigious list, after securing 71 Top Band results in the 2022 HSC exams, across 22 different courses. 31% of the graduating cohort are listed among these Distinguished Achievers.
"It is great to see the overall results demonstrate the capabilities and potential for success of rural and regional students through hard work and persistence," said Principal David Smith.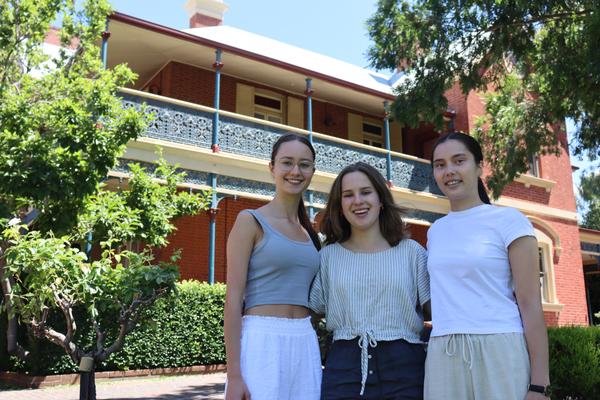 Calrossy received 13 ATARS over 90 (13% of the cohort). Eight over 95, with Harriet Fay securing what is believed to be the region's Top ATAR of 99.8. Joining her on the NSW All Round Achievers list is Emma Golland and Olivia Bowman, scoring top bands in at least 10 units. Chloe McWilliam and Tahlia Barwick were one mark each of also achieving this level.
In another impressive accolade three of our students ranked in the top three places in the State in Primary Industries. Caitlin Scanlon was second in the State, with Olivia Fitz-Roy and and Emily Taylor tied for third. These results come after Calrossy secured two top ten places in the State in Primary Industries in 2021.
"These results reaffirm the quality of a Calrossy education and that our local students, many who are boarders, can and have been successful in being right up with the best students in NSW," said Principal David Smith.
The results of our students beneath the top bands were also very good– with most subjects scoring significantly as a group above NSW average. Highlights include but are not limited to;
100% of students in the top band for English Extension, History Extension and Music 1,
85% students in the top band for Textiles and Design
Over 65% students achieved in top two bands for Geography, Modern History, English Advanced, Ancient History, Agriculture, Society and Culture, Primary Industries and Visual Arts.
Agriculture was 11% above the state average, Primary Industries and PDHPE was 8% above, Modern History 10% above, Ancient History 7% above, Investigating Science 7% above , Textiles and Design 7% above and Industrial Technology 10% above.
In the Sciences, Biology, Chemistry, Earth and Environmental and Investigating Science all more than 5% above the State average.
"Congratulations to students, teachers and their families for these excellent results. I am extremely proud of our students who have negotiated all sorts of challenges. I have no doubt they will thrive in their exciting futures beyond school," David Smith.
*ranking is based on success rate which is the number of top band results as a percentage of total number of entries.