Calrossy brothers compete at Australian Titles
Benji and Jackson Gordon, in Year 6 and 7 at Calrossy respectively, might be too young for a driver's licence but are more than capable behind the wheel of a racing car.
(Cover photo and story below appeared in the Northern Daily Leader and Tamworth Times.Photo: Gareth Gardner: Story:Ben Jaffrey)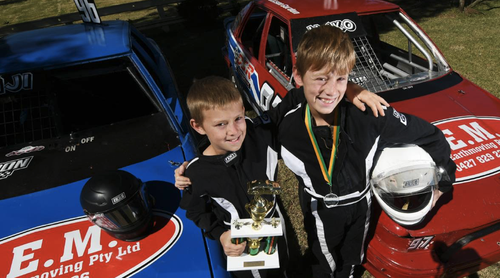 The rivalry between Benji and Jackson Gordon has continued - but now its gone to the national stage.
Being just one year apart in age means the brothers compete against each other and that was the case at the Australian Junior Sedans Titles at Gilgandra.
It was a superb effort by Benji, 11, and Jackson, 12, who finished third and fourth, respectively, in the new stars (10-14) division.
It was their first time competing at the titles and it was the first time Benji was able to beat his older brother.
"The only trophies I have are when he hasn't raced. When he gets a DNF [did not finish] or something, I get a trophy," Benji said.
"[It feels] kinda good, because I actually beat him for once in something."
Jackson had mechanical issues on the night which meant his car was running on just three cylinders after the heats. He qualified for the final and finished just millimetres behind Benji.
In true form to big brothers, Jackson thinks if his car was running on all cylinders he would have beaten Benji.
"I reckon I would have smashed him," Jackson said.
The title race was the first time the boys had stepped up to 25 laps opposed to the normal 12. Dad Andrew was elated with how his sons rose to the challenge.
"I am proud of the way both boys raced on the night," he said.
The boys thanked fellow junior driver Isobelle Jennar-Urquhart, their dad and their sponsors for all their help. Meanwhile, Keith Urquhart also competed at Gilgandra where he finished second in the Australian Fender Bender titles.
Keep an eye out on the NDL sport section for our piece with Urquhart in the coming weeks.
(To see more stories like this you can subscribe to the Northern Daily Leader.)