Calrossy leads the way with home learning.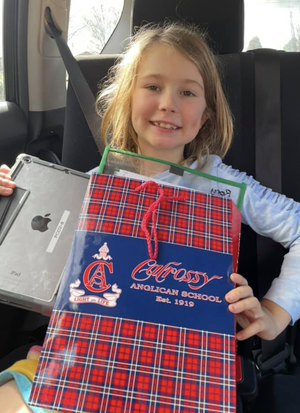 With Tamworth plunged into lockdown on Monday afternoon, Calrossy Anglican School wasted no time in ensuring its students would be back learning as soon as possible.
Calrossy's Junior School, catering for students from Prep to Year 6, yesterday (Tuesday, August 10) provided its students with more than 350 home learning packs; handed to parents by a drive- though COVID safe delivery service.
"These packs contained resources and equipment to support the learning and ensuring parents have all the help they need during this lockdown", says Claire Dalziel, Head of Junior School.
Calrossy's home learning includes a schedule of age-appropriate activities on the SeeSaw app for the junior school students, and includes an early morning live online session with their teacher and classmates each day.
Miss Dalziel says the quick response helps ensure the continued learning and wellbing of students and families.
"We know that in every household, Home Learning will be different. We are aware of the struggles and hardship that some families will go through whilst in lockdown. It will not be easy, though some will love it. We just want to assist every family to do their best."
She said to families, "Go for walks, ride bikes, spend time as a family, cook, play board games, do puzzles, spend time in the garden, play outside, learn new skills, revisit old hobbies, build new family traditions and look after each other. Laughter and exercise are the body's natural stress relievers. Make sure these are high priorities."
Calrossy mum Lisa Hinwood says the School's response has been invaluable for her busy family.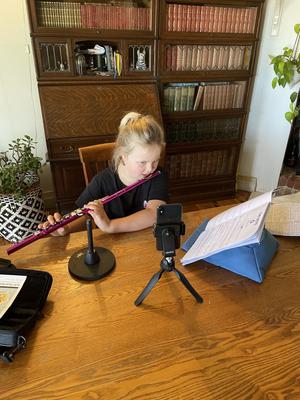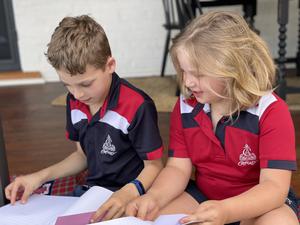 " Seamless transfer from classroom to home learning helps my children to continue their education, feel supported and has permitted us as parents to continue running our business from home. Within 18 hours of lockdown, Oska and Anni received personalised education plans ready to go and they have already completed a one-on-one music tutorial by Zoom. I know Locksdown 2.0 will be easier," she says.
Meantime, Calrossy's Secondary students are all back online in class following their normal timetables from today (Wednesday, August 11), after holding an impromptu staff day on Tuesday in preparation. It did require Calrossy to postpone its Year 12 Trial HSC exams midway which will resume as soon possible.
Principal, David Smith commended his students and staff on their quick response:
"Our School has been in this place before and we are in a strong position to do it well again. The Calrossy community has been positive and proactive in response to the situation,"