Calrossy's First XI bring home a great win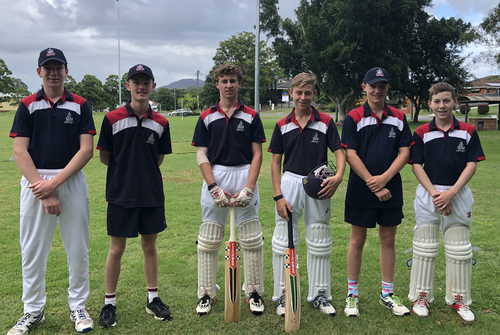 Calrossy's First XI travelled to play the second round Douglas Shield match against St Columba in Wauchope today. We won the toss and elected to bat with Captain Matthew Holmes scoring a magnificent 55 runs. The remaining Calrossy players found it hard to score and we were eventually all out for 90 after 27 overs. Coach Shawn Mepham spoke about remaining positive and Calrossy wasn't out of the match by any stretch of the imagination.
Calrossy took to the field and the intent to play positive cricket was there from the first ball with our players throwing themselves about in the field. Year 11 student Will Blomfield took a screamer down low and the team didn't drop a chance all game. Our bowlers toiled with Year 9 student Doug Brissett taking 5 wickets with his off spin bowling and the Year 11 student Chloe Scicluna taking the final wicket to secure the 5 run victory. The bowling efforts were all the more special with Matt Holmes and Will Aitken unable to bowl due to injuries.
The Calrossy team again handled themselves with great poise and sportsmanship in this very close match. Although Coaches and scorers may not be able to handle another close game like today as they haven't got any nails left.
A huge congratulations and well done to the team who now progress deep into the competition to play the winner of St Phillips Cessnock (last years winners) and Carinya.