Calrossy student named Grand Champion Parader in Sydney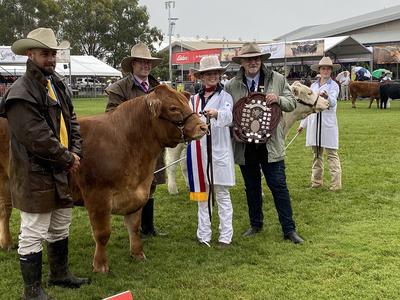 Calrossy Year 11 student Zoe Rudder has been named the State's Grand Champion Parader at the Sydney Royal Easter Show.
The talented Argicultural student took out the top title after being named the Champion School Parader earlier in the week.
In what has been a wet week of parading Calrossy students and cattle have already bagged a number of prestigious awards including;
Champion School Steer (Calrossy Cino paraded by Zoe Rudder and bred by B & E Bayliss) Second was Calrossy Latte (also bred by B & E Bayliss). Calrossy Sirlion (bred by C & L McGilchcrist) was highly commended.
Highly Commended School Steer (Calrossy Sirloin paraded by Matthia Rudder and bred by C & L McGilchrist)
Parader places in their class (Georgia Bailey first, Mark Jones first, Lori-Anne Lott second, Mia Rasmussen third).
The Calrossy Community can check the photo gallery on The Hub.