Calrossy students given an insight into Health and Trade based careers
Our Calrossy Secondary students were given the perfect opportunity to discover all about career paths in two very different fields recently. The Health Careers Forum at the University of Newcastle Department of Rural Health in Tamworth is always a popular drawcard for any student with an interest in health related careers as it provides the opportunityfor them to witness a number of role play scenarios. This year the visit included a community health setting where a parent was meeting with various health professionals to discuss her young son in a hospital setting where the patient was being assessed and attended to by a number of health professionals. Professionals involved who acted out in the role plays included: Nursing and Midwifery, Physiotherapy, Radiation Therapy, Speech Pathology, Medicine, Dietetics, Social Work, Occupational Therapy and Medical Research.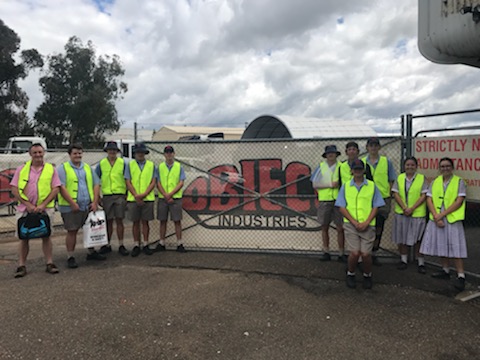 Students were also able to benefit from the chance to see a vibrant workplace and learn about the types of workplace requirements they need to be familiar with if they are to enter any trade based workplace on a visit to Obieco Industries in Tamworth. Students were given helpful awareness of workplace safety, workplace employer expectations and for those who impressed, future opportunities to gain work experience in the future or even an apprenticeship following a successful work experience period. Apprenticeships at Obieco exist in the following areas:
Auto Electrical – Certificate III in Automotive Electrical Technology, Auto Body Spray Painting – Certificate III in Automotive Refinishing Technology, Engineering Mechanical – Certificate III Engineering – Mechanical Trade and Engineering Fabrication – Certificate III Engineering – Fabrication Trade. We look forward to discovering which career paths our current Yr 12's and future Alumni will take in the future.