Calrossy UNE GRASS Scholarship Winners
Three of our Year 12 students recently graduated from a special program through the University of New England. UNE GRASS (Growing Regional Agriculture and Science students) scholarship Calrossy recipients for 2021 were Emily Taylor, Caitlin Scanlon and Olivia Fitz-Roy.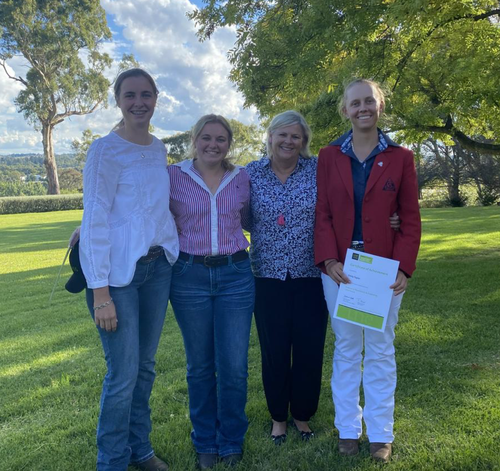 The trio were presented reports and awarded at a prestigious ceremony at UNE last Friday evening in front of very proud families and their Ag/Bio teacher Mrs Brony Nielsen.
Six students from Calrossy Charles Traill, Goran Kelly and William Blomfield along with Emily, Caitlin and Olivia were selected amongst 74 others to participate in the online camp with the girls selected as three amongst 11 students from Yr 11-12 in the North West NSW region for $500 scholarships that involved work placement in the agricultural industry over the Christmas holidays.
Emily worked in the animal genetic section of UNE, Caitlin worked in Cotton research and Olivia worked in the agronomy field. We would like to thank Susana Greig and her GRASS team at UNE for providing such inspirational opportunities for our students each year where students network and engage first hand with diverse Ag Science industries while being mentored by some of our top agri-business and research leaders in their fields .