Residential school time for eCalrossy
It's time for in person practical learning for Calrossy's distance education students.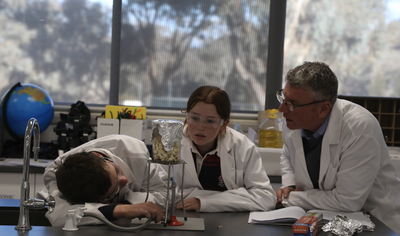 In its second year of running the distance education program, eCalrossy, the School has 23 Year 7 and 8 students from across the State, accessing learning from home.
Now in the first week of Calrossy school holidays, the students are enjoying their second residential session for the year. These compulsory weeks allow the students to complete the practical learning components of PDHPE, Technology, Science plus other electives. During this week the students are trying their hand at cooking, science experiments and a variety of sports, including some assessment work.
The week is also designed to promote wellbeing and the connectedness of the boys and girls, who are already familiar with each other through their Zoom learning.
The eCalrossy program was designed to ensure that rural and remote families had access to the flexibility of a quality distance education program. It has been announced as a finalist in the Australian Education Awards for Best Remote Learning Program, to be announced in August.