Emily Taylor wins prestigious Hereford Australia Scholarship
Story and photos courtesy of Herefords Australia
AN 18-year-old stud founder and aspiring cattle geneticist has clinched the Herefords Australia CM Hocking Scholarship in what is the 20th year of the bursary supporting the next generation of agriculture leaders.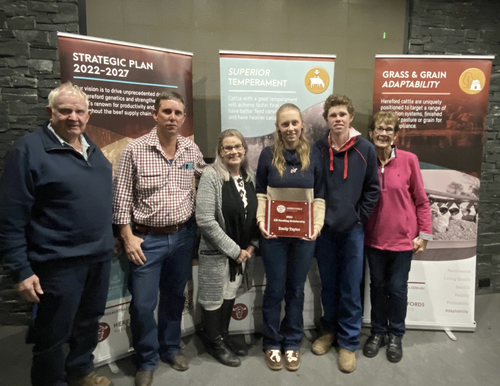 Emily Taylor rose to the top of a competitive field of applicants who vied for the coveted scholarship, which was bequeathed by Hereford pioneer, CM 'Madge' Hocking, in 2002.
The Year 12 Calrossy Anglican School student, who lives on her family's commercial cattle operation at Quirindi, on the Liverpool Plains, will use the $5000 bursary to assist with her study costs when she starts her studies at the University of New England next year.
"Winning came as a huge surprise, I didn't expect it as I assumed they would award it to someone who was older as I haven't yet finished high school," Emily said.
"It is an honour to have won. Through applying for the award I learnt a little about Madge Hocking, she seemed like an incredible person who was just as passionate about the Hereford breed as I am – she clearly wanted to do all she could to support the breed."
Emily impressed the panel of judges with her robust industry knowledge and drive, traits which have also helped inspire her own stud, Eclipse Poll Herefords, which she established shortly after attending the Hereford Youth Camp at Wodonga in 2018.
"I have fallen in love with the Hereford breed and the people who work within it," Emily said.
"Working with my own stud, as well as my family's small commercial breeding herd, I have learnt firsthand the benefits of Hereford genetics for cross breeding to create high-performing cattle for finishing on grain or grass.
"Through my degree at the University of New England, where I will study either agriculture or rural science, I hope to eventually work in the beef industry in the fields of breeding and animal genetics."
Emily also has big goals for her own stud, which currently has a herd of 15-registered Hereford females.
"I would love for it to grow much bigger and to become a stud commercial producers turn to for industry-relevant bulls and genetics," she said.
Herefords Australia, Chief Executive Officer, Lisa Sharp congratulated Emily on her achievement and described the promising teen as embodying all that the CM Hocking Scholarship represented.
"Emily is joining a proud alumni of CM Hocking Memorial Scholarship winners who are all paying tribute to Mrs Hocking's legacy through their diverse agriculture careers," Ms Sharp said.
"This year, I was among the judges for the bursary and was thoroughly impressed by the calibre of applicants we received. While choosing one winner is always a challenge, Emily was a standout for her strong views on and passion for Australia's beef industry."
Ms Sharp said bursaries like the CM Hocking Memorial Scholarship supported bright minds pursuing careers in agriculture.
"The Australian beef sector is broad, and highly progressive, and in need of smart, enthusiastic and hard-working young people, like Emily, to become our future leaders.
"Global demand for Australian beef has never been higher, and it is imperative our industry can attract and retain the best and brightest to ensure the sector capitalises on the industry's immense opportunities."