eCalrossy students enjoy their second residential at Calrossy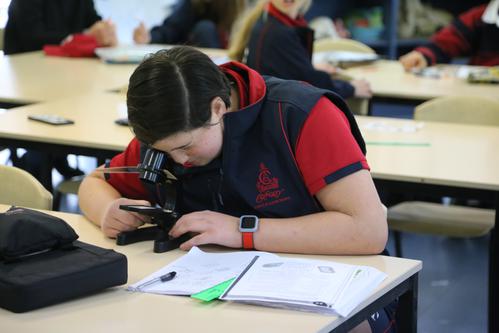 Meet Caitlin, she's just one of the eCalrossy students who are currently at Calrossy for their second residential of the year. eCalrossy is the revolutionary distance education that is helping students like Caitlin receive quality education in a supported and connected environment for students who are unable to attend traditional school for a number of reasons including geographic isolation, boarding not being a viable option, health conditions or they are wishing to continue schooling at home.
The eCalrossy program commenced this year and provides an independent education earlier in secondary school than might overwise be possible. The learning is done in real time with interaction with classmates and specialist subject teachers, reflecting a normal school day and timetable as closely as possible, while also offering flexibility. The eCalrossy day starts at 8:40am and ends at 1:05 or 1:25pm.
One of the real benefits for the students is that almost 100% of school lesson time, students are in contact with their teachers and fellow distance education students. This allows online interaction between students with facilitated discussions and group work in real time.
eCalrossy parent Louise from North East of Broken Hill said "We love it. The fact that Keeley doesn't have to log in and out all day, it is just one Zoom experience. The support that we have had from the school and the IT support is amazing, it has been such a nice experience".
The three residential sessions take place in mid-January, early July and early October (when other Calrossy students are on holidays), each requiring attendance from Sunday afternoon to Friday afternoon and are a great opportunity for the students to carry out the practical components of Science, PDHPE, History/Geography fieldwork, Technology hands-on experiences and social opportunities.
The residential session costs are covered within the School Fees (apart from transport to and from Calrossy).
If you would like more information on eCalrossy, please our Registrar Mrs Rachel Marchetto or visit our website.