Farewell Brony
Brony Nielsen... Thank you for your enormous contribution to Calrossy over the last 20+ years.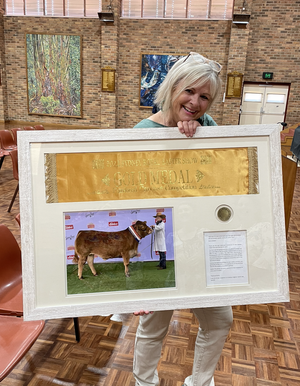 Last week Calrossy farewelled a long standing and much loved staff member, with Mrs Bronwyn Nielsen, hanging up her teaching hat after a great career, including more than two decades with Calrossy. Although Mrs Nielsen, affectionately, known as Brony has taught across various areas of the school her real passion has been in agriculture and with the Calrossy Cattle Team.
Brony has seen this group grow from a handful of students with four steers kept on the Newcombe's family property at Duri in 2001 to what it is today, including the highly successful Kamilaroi Shorthorns Stud, ran out of the School farm on the Gunendah Road, Tangara. Brony has been instrumental in developing the Cattle Team program into such a large, popular, and successful cocurricular area of the school where students can learn life skills and have fun amongst other cattle and show enthusiasts. During her time she has also played a huge role in developing Calrossy's TAS program, which she has headed for several years, as well as teaching Senior biology.
Calrossy has been so privileged for her endless provision and generosity of time and we are so grateful for all that she has done for the students and school in general.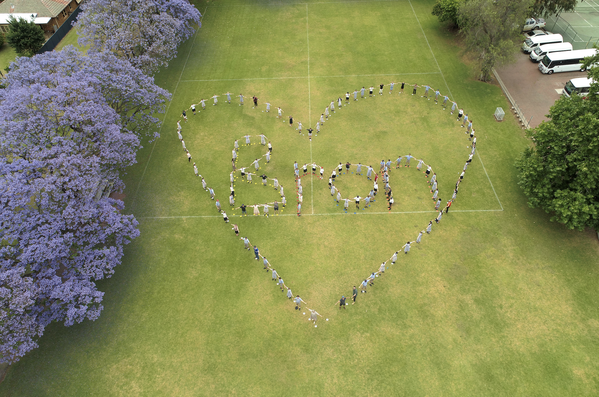 As part of the farewell celebrations Calrossy presented Brony with a special framed version of the Gold Medal (above) received at this year's Sydney Royal Easter Show, which is one of the highest accolades for the industry in this sector.
A special drone photo shoot (right) was also organised on the Brisbane Street Campus Oval, to provide her with a very special Calrossy keepsake.
Below are excerpts from a speech written by one of her long standing colleagues and former students, Kathy de Jong, presented during her farewell.
_________________________
Today is the day, when you retire and go, but there is something I want you to know, your wise words will always be in my heart until eternity.
It all started in 1989 when a quiet shy country girl went off to boarding school at Kinross Wollaroi Orange.
I was lucky enough to have a young, bubbly, energetic Ag teacher who encouraged me to join the Cattle Team. Well I have never really left Bron's Cattle Team after some 33 years and what an adventure it's been. We have seen and done so many things together. So many stories, and a lifetime of happy memories. We have made a great team and inspired so many students. Bron has always been able to make my wild often crazy ideas turn into a reality. James it's now up to you to keep me in check, feel free to say not I don't think that will work Kathy, we are doing too much. She inspired me to become an Agriculture teacher and a I am so grateful that I was taught by her. But today is about you, Bron.
..... Ok we are at Calrossy in 2001, Bron has four students in the Cattle Team who really weren't that focused on the cattle, more into socialising. She took them to the Sydney Show but they weren't very interested in cleaning or sweeping. They just wanted to go and watch the main events. They didn't last long with Bron. But through her hard work and relentless hours spent at school, she has now left us with over 35 students in the Cattle Team and over 25 students regularly attending after school each week.
In Ben Cameron's words (We are going to need a bigger Bus Bron).
After the original girls Bron started to build the Cattle Team. She took students and cattle to the Brisbane show with the help of Mary Koch and won many champion ribbons and highest point school being unbeatable in the school team junior judging competitions at Brisbane Royal. As you can see from the clippings on the table, they made the front page of the Queensland country life several times. Me still in the background clipping cattle and swapping advice all the way. I remember the time that Bron packed so much feed that over 30 bags had to be dragged from the bottom shed about 2 km up a big hill to be stored above our cattle so it could be taken home at the end of the week. Geoff loved doing this job so much he never let us forget. Then there was the time Bron and I tried to cover up a bare patch on a cow with red spray paint and Geoff was so disgusted he took the cow out of the chute and walked off leaving Bron, I and the students standing there in amazement. We never used paint again.
I would come up to Tamworth after a five hour drive to just clip the cattle for the School. I watched as the Cattle Team grew and witnessed when the bull made $75,000. I kept saying OMG, but really it was the way you looked after the bull and the support that you (Bron) and Geoff had created for the School that made the money, people were happy to bid on the bull due to the respect you and Geoff had created. After that Mark Doran and Geoff received the grant for the Trade Training Centre and the Cattle Team grew in numbers. Geoff and Bron started to build the Shorthorn herd and Leicester Job and Gerald Spry helped the herd increase in numbers. Bron had students that were achieving Band 6's in Ag and Bio.
.....
What a legacy you have left this school. I have lost count how many times you have had over 10 students receive band 6's in Agriculture and your Biology marks have always been outstanding. But this isn't the biggest legacy. You always made sure that no one was left behind. You would always spend your lunchtimes with the struggling students trying to get them to catch up on work. To Bron every student was important and she was always so proud when they came out of the exam with some sense of achievement. Often the kids just did the exam so they didn't let Bron down. She was able to make the students think they were doing the exam for her. Her passion for teaching is inspiring.
It is now time to hang up this hat and take this beach hat to help you relax.
Please know that we will all do our best to make you proud. You have won so many awards over the years and have been awarded a Royal Show Champion which sums up your achievements. I am so proud to call you my friend and so thankful that I have been part of your life. Our team is going to be hard to replace but I know James, Alex, Bart and I can take the role on with enthusiasm. You and Geoff have taught us well and we will always try to make you proud.
Side by side we have worked
And how the years have passed by
I can't believe you are retiring
The place won't be the same, no lie!

Enjoy the coming years
Do what you want, when you please
We will miss you here at work
Work for you has now ceased.

No more deadlines, no more Mrs boss
What a different life for you
You can now do the things
That you have always wanted to.

As you retire from this job
We wish you happiness
And no more stress
Working with you has been the best. (Kathy de Jong)