New opportunities at Calrossy
Calrossy offers Clint a great start to Secondary
Imagine a school day where you don't have to travel or leave home and you still have hours to yourself every afternoon and yet you still receive a quality education. That's what Clint Baker from Bohena Creek, south west of Narrabri, is looking forward to next year thanks to Calrossy Anglican School in Tamworth.
At the moment the 11-year-old Year 6 student sits on the school bus for a three-hour round trip to school in Narrabri. His parents, Jeff and Jon-Maree Baker, didn't want him to go to boarding school just yet but they also knew the travel took a toll. That's when they heard about eCalrossy, a new distance education program being delivered by the Tamworth-based school to Year 7 students from 2021.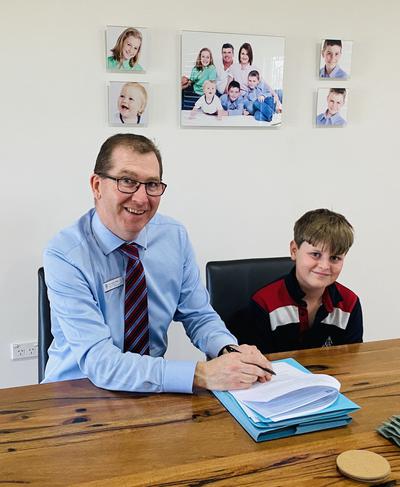 The Calrossy product is innovative and something different in the distance education market, helping bridge the gap between students wanting, or needing, to stay home but also wanting a quality education in a connected environment. The learning day starts at 8.40am and runs through to 1.05pm, giving students and families time to meet other commitments in the afternoon. Dubbed eCalrossy the program will deliver learning in real time and replicate a secondary classroom, with interaction between classmates and specialist subject teachers.
The hours and design of eCalrossy appealed to the Bakers.
"What we love about the Calrossy approach and the School's attitude to learning is that it is really thoughtful, this is why it will be successful," says Jon-Maree Baker.
"The eCalrossy program is accredited as a distance education program and it gives us the confidence that it will be a quality education, we know that with Covid everyone had a different experience but we are ready to take advantage of the opportunity provided by Calrossy."
"It was an idea that Calrossy was investigating even prior to Covid but the period of online learning made it clear that the School could deliver effective education by distance" says Deputy Principal, Mark Doran.
"It makes sense to use the available technology to have distance education as a live, interactive experience. The dedicated distance education class will provide this, in contrast to other ways distance education has been arranged. Our School is committed to extending the program to Year 8 in 2022 and to Year 9 by 2023," says Mr Doran.
It isn't the Bakers first experience with Calrossy. Their daughter Shaine graduated from the Tamworth school in 2016. They say they knew eCalrossy was the best choice for Clint.
It all kicks off for Clint in January, when he will attend one of the week-long residential blocks that will occur three times per year. These are to ensure practical components of courses and wellbeing/social needs can be met.
"I'm looking forward to getting my laptop and I like the school hours, but I'm sure there will be plenty of homework," says Clint.
"Starting the program with a residential school will let the kids get to know one another and for Clint he believes the interaction with his classmates will be no different to being online with his current school friends… we can't wait to start," says Jon-Maree Baker.