Online NAPLAN for Calrossy
Going online for NAPLAN this year means Calrossy students will benefit from an adaptative test that challenges them at an appropriate level.
(Story and photo as appeared in the Northern Daily Leader. Journalist: Jessica Worboys; Photographer: Peter Hardin)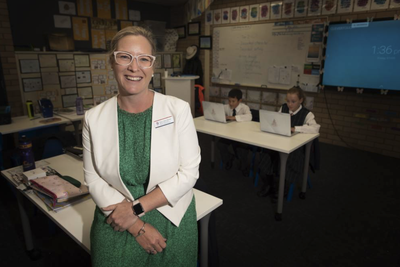 It's the era of technology and Calrossy Anglican School will be taking a further step into it for NAPLAN online this year.
All year 3, 5, 7 and 9 students in the country will complete the exam from Tuesday, May 11, but Calrossy kids will solely take the test on a digital platform.
What's different about the online format is it changes the questions depending on the student's capability.
Calrossy's head of junior school, Claire Dalziel, said each student would complete the same ten questions, and from there, the questions will change to something more challenging or something simpler.
"There's also the element of 'I'm using my MacBook or I'm using tech for a test' which if you put paper and pencil in front of a children for a test, I think that actually creates more angst than something that is a little bit more inviting on a screen because children do love to use technology," she said.
Ms Dalziel said NAPLAN was a good way to find out how children were progressing in their learning.
"The importance of NAPLAN is it's a point-in-time test and then to track children's growth overtime," she said.
Mercurius Goldstein, from the NSW Teacher's Federation Tamworth branch, disagreed with this.
Mr Goldstein said NAPLAN wasn't "effective at diagnosing a single student's progress at the individual level".
"What NAPLAN is designed for, is system-level diagnostic so there is no level-need for NAPLAN to be conducted as it currently is as a school population census test," he said.
"Instead, it should be either abolished or replaced by valid sample testing of a statistical standard of the population to make diagnostic checks of the population: state-by-state, system-by-system."
Ms Dalziel argued "a national assessment program is what it's called".
"If you reduce it and remove it and just have a selection of children, then it's not essentially a national testing program," she said.
The head teacher said from now on Calrossy Anglican School would complete their NAPLAN exams online, rather than on paper.
Students will begin NAPLAN exams on May 11, with paper exams running until May 13.
Online exams will wrap up on May 21 across the country.