Parent Access & Communication
How do I know what is happening and can I catch up with my child easily?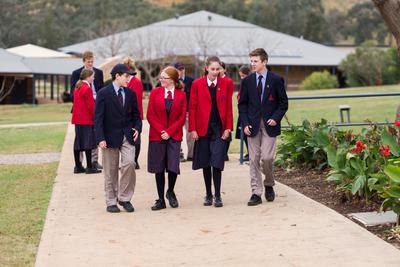 Boarding parents will be kept up to date with direct email and phone contact from Boarding House Staff along with parent meeting opportunities, group parent sessions and information provided via our internal communications system, The Hub. There are a variety of events throughout the year that allow our Boarding families to connect – such as our Boarder Muster – where parents and the boarder community can connect in a social manner.
Phone communication with your child is not encouraged during the school day.
Whilst we do encourage families to be mindful of boarding routines, scheduled phone calls home are always greatly anticipated by new boarders. Boarders may use their phones at specified times and Years 7-10 must hand in their mobile before lights out each evening.
We consider a mobile phone to be a privilege, not a right. As such boarders are to be responsible in the use of their phone and areultimately accountable for any material sent or received via this media. Mobile phone cameras are not to be used in bedrooms and dorms within all Boarding Houses.
Boarding parents and families are welcome to catch up with their child during visits to Tamworth and this is arranged?
The boarder parent of today is connected with life within the boarding house and broader school. For the majority of parents, a trip to Tamworth is a regular event and allows them to take part in school events and also to visit and take their child out on Leave. Parents are always welcome and able to take out boarders when in town.