Phebe McNamara striving to be the best version of herself
Story and photo courtesy of the Northern Daily Leader.
Phebe McNamara had just woken up on a perfect autumn morning in Denham, Western Australia. Some 1100km west, Cyclone Ilsa was bearing down on Port Headland.
The holiday plans of McNamara and her travel companions were unaffected by one of the strongest storms to hit the area in recent years, that had wind gusts of around 300 kilometres when it made landfall some 17 hours after McNamara spoke to the Leader.
Shielded by the WA coastline's great expanse, the group had nothing to fear and everything to look forward to: the family holiday doubled as a celebration for the 50th birthday of Sacha McNamara, Phebe's mother. The bucket-list experience was snorkelling with whale sharks at Ningaloo Reef.
Thankfully, Ilsa largely spared populated regions and there were no fatalities.
The McNamaras also include dad Jim, Callum, 26, Jack, 23, Tom, 21, and Lillian, 19.
"We normally go on pretty big trips," McNamara said of family holidays. "We plan it all out. We've been to Uluru."
"They [her family] love getting out and camping and just doing stuff different to what we're used to," she added, "because we live on a farm and it's hard to get away sometimes. So when we can, we get away."
On April 19, McNamara turned 17. And on Monday night, the family arrived home at Currabubula. They run a cattle and crop farm at Piallaway.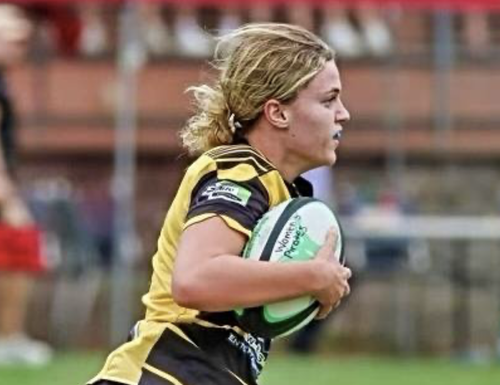 On Wednesday, the Calrossy year 11 student passed her driving test. And on Saturday at Ken Chillingworth Oval, she will play her first match for Pirates this season when they take on Quirindi.
The following day, she will play two trials for the Central North under-18 side against Hunter in Scone, in preparation for the NSW country championships in Sydney over the June long weekend.
On Thursday, she was selected in the NSW Combined Independent Schools sevens side, after a trial in Sydney, that will contest the All Schools championships later this year.
"Very busy," the inside centre said, stating the obvious, adding that having a licence would relieve the burden on her parents.
McNamara said she was "really thankful" for her parents, who operate the Currabubula school-bus service, "because they drove me everywhere I needed to go".
"So they obviously do a lot for me," she added.
Like Jada Taylor and Charlotte Eather, who hail from Tamworth and Gunnedah, respectively, and are now playing for NRL clubs, McNamara is a driven soul.
"That's the goal: see how far I can make it," she said, adding: "There's some pretty good opportunities, and hopefully I can take it."