Prestigious Law Bursary awarded to Calrossy Alumni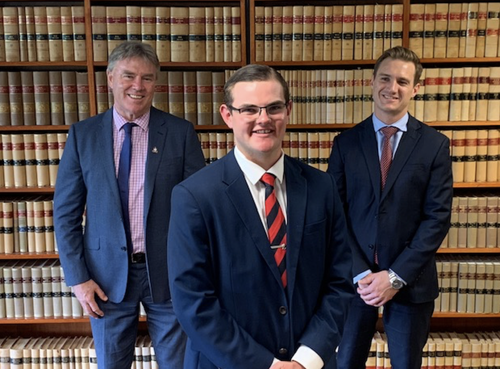 Congratulations to Calrossy Alumni Riley Bomford (Class of 2019) who has been awarded the the Everingham Solomons Sir Adrian Solomons Memorial Law Bursary for 2020. Riley was presented with this award at a ceremony at Everingham Solomons on Friday, February 19. This prestigious award and honour is given out every year to a Tamworth student studying Law and is the second year in a row a Calrossy graduate has won the bursary. As part of the award, Riley has received $1,500 which will go towards his university costs. Riley commences his study this year at the University of New England in Armidale.
As part of this Bursary, Calrossy also received $1000 which will go to the Calrossy Foundation to help the next generation of students achieve their goals. Riley is pictured with Principal David Smith and Director of Everingham Solomons, Clint Coles, at the award ceremony last week. Well done Riley!