Pupil Free Day on Thursday April 9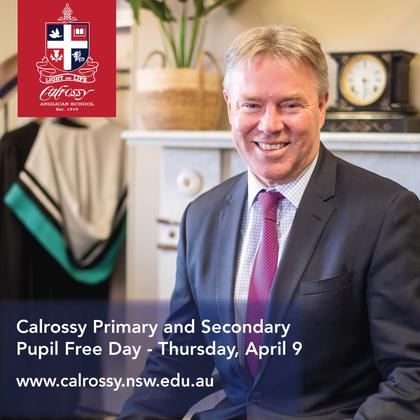 Dear Parents,
As you would be aware, the NSW School term concludes on Thursday 9th April, prior to the Easter period. It has been a long 11 weeks for students, staff and parents, especially with the changes thrust upon us by COVID-19.
For Thursday 9th April (last day of term) Calrossy will provide online resources for students but I need to give notice to parents that the final day will be pupil free on all campuses, both Primary and Secondary.
Teachers will remain at work and spend their day preparing resources and materials to further enhance the online teaching process that we envisage will be required into next term. Therefore, staff will not be accessible via email or Zoom for Thursday. We will not be marking our virtual class rolls though students should submit due tasks as required. Thank you for your understanding on this matter.
We are very proud of our students and the way our whole community has approached this uncertain situation. I am aware of how challenging the period has been for students, teachers and parents at home, all of whom have had to adapt to different ways of doing school. We are all learning from our experience and will put much of this into practice ahead, hoping that a full return to school will occur as soon as possible.
A short newsletter will be published late this week and regular updates from Calrossy will be provided on our COVID-19 tile on the HUB, the Calrossy Website and on social media. As soon as certainty can be provided towards arrangements for next term, parents will be notified.
Kind regards,
David Smith
Principal, Calrossy Anglican School