Recreation/Sport/Health/Food
What if my child is sick?
Health and Wellbeing are at the heart of Boarding life at Calrossy, and our Health Centre is equipped for the care of all boarders. All medication is kept with the school nurses and boarders are able to access the nurses both during dayschool and boarding hours. Weekend clinics are run and our nursing staff are on call 24 hours a day.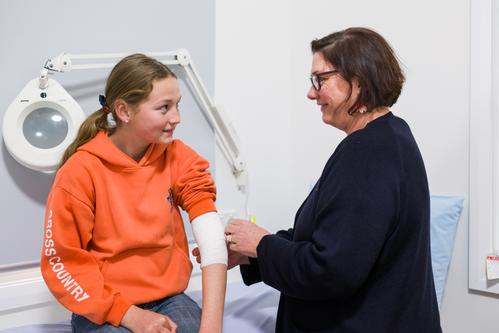 What is my child has special medical needs?
As a part of the enrolment process each boarder will have an appointment with our Nursing staff and Head of Boarding to review their individual needs. Where specific plans or care may be required our nursing staff work with parents in planning prior to those boarders entering our community.
What activities will my son or daughter have access to?
All our Boarders are encouraged to participate in a team sport if possible, as well as pursue any individual interests or sports. In Tamworth there is a diverse range of recreational activities and sports competitions available to students, from equestrian, hockey, rugby union, rugby league, soccer, netball, swimming, gymnastics, dance and many more.
In sport and culture, talented students are able to represent at the Hunter Region Independent School level with pathways to the Combined Independent School and State.
What will my son or daughter be eating?
Each day boarders are provided with breakfast, morning tea, lunch, afternoon tea, dinner & supper. In addition to this fruit is always available for boarders to access along with drinking water.
All meals in the boarding house are compulsory, except for Saturday breakfast. It is important that you are on time and appropriately dressed. At weekday breakfast Boarders must be in full uniform, at other times it is important that you remember that we are coming together as a community and that respect must be shown for each other and ourselves within the Dining Room.