Yr 10 Calrossy student Erin Stirling set to begin French odyssey
Story and photo courtesy of the Northern Daily Leader
Calrossy Yr 10 student Erin Stirling is about to set off on a journey of nearly 17,000km after waiting for nearly two years. The 15-year-old was initially selected in the Australian Under 16s team ahead of the 2020 Horseball World Cup, which was eventually called off due to COVID-19.
The event will now go ahead this August in Saint-Lo, in France's northwest, and Erin feels both "really excited and really grateful for the opportunity".
Horseball is described on the International Horseball Federation website as "a mix of basketball and rugby". It is played between two teams of four, who must make three passes before they can score using a football encased in a harness with six leather handles which allow it to be picked up.
Though Erin began playing horseball just over four years ago after being introduced by a friend at school, her history with horses spans a lifetime.
"I was born into a horse family," she said.
"I think the first time I sat on a horse would have been when I was six or eight weeks old."
Erin's mother, Amanda Watson, is the president of the Australian Horseball Association. Though she has never played horseball, her parents own an Arabian stud (Aqaba Arabians in Loomberah) and she has a background in endurance riding.
Growing up, Erin inherited her mum's passion and took part in eventing. Now, more than her love of competition, she relishes the relationships she has developed with her horses.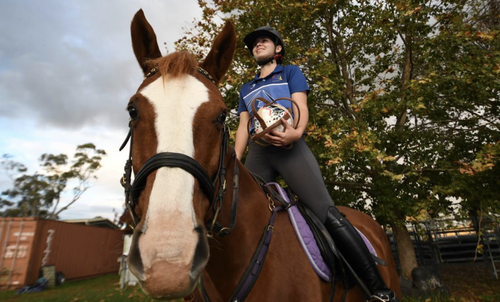 "I love the trust that's involved [in horseball]," she said.
"They have to trust us and let us go down the side of them, come up real close to them, and throw balls all around them."
According to Amanda, horseball is still developing popularity in Australia, but has reached "rockstar" levels in Europe.
She expects Erin will play in front of full stands in France, which the reserved young woman said is a "daunting" prospect.
"It's definitely going to be interesting," she said.
"I'm usually not that much of an outgoing person, so it might be a little bit daunting at first, but I'm sure the adrenaline will kick in."
Due to Australia's relative inexperience in the sport, Erin said she and the rest of the team - who she trained with in Brisbane earlier this year and will do so again during the mid-year school holidays - are simply aiming to give their all and see what comes of it.
"We're going to give it our best shot," Erin said.
"We're really going to put our hearts into it and see where that takes us ... we don't have the experience some countries do, so we'll just see how it goes."
There is also a more personal motivation which is driving Erin to do her best in France. In early 2021, her grandfather passed away, who Amanda said was her daughter's "biggest supporter".
"It was extremely important to Erin's Pop that she make the trip to France and show the world what she can do," Amanda said.
"Erin is very motivated to do her best and dedicate the success of riding onto the international competition pitch to her late grandfather, John Willcox."
The Australian team will arrive in France on August 9, ahead of the tournament which will run from August 15 to 20.
The team has been raising funds to help pay for the cost of travel to and accommodation in France. To boost their efforts, a Winter Warmer Country Dance will be held on July 16 at the Loomberah War Memorial Hall.