Principal's Welcome
Welcome to the Calrossy Anglican School website.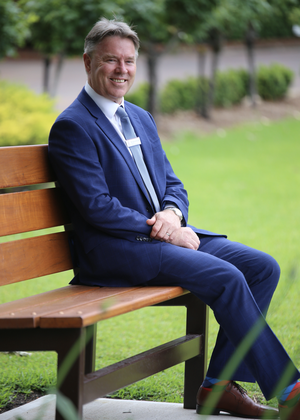 Calrossy is located in the vibrant regional centre of Tamworth and possesses a rich culture developed over 100 years. We are focused on quality learning, holistic growth and promoting success for every student. Our local and boarding students are equally as important to our community and we are centrally located to many nearby centres. As a distinctly Christian school, there exists a strong emphasis on relationships, developing character and supporting students to make a difference.
At every stage of the educational journey, rich experiences for students are provided at Calrossy. The School is uniquely structured to be relevant to learners at each step of schooling. Its unique shape provides the best of both worlds in single gender learning and coeducation.
Junior school
Our students receive a wonderful start as learners, building skills and developing individual capabilities in a coeducational environment, based on the P – 6 section of the William Cowper Campus. There are countless opportunities for students to get involved and develop their strengths and interests.
Calrossy 7 - 9
In the early years of Secondary school, students learn in single-gender classes, promoting courage and a 'can-do attitude' amongst our early adolescents. They develop their personal identities as young men and women and grow confidence in their individual strengths as learners. Students are encouraged to think, apply their knowledge and develop initiative through what sometimes can be challenging years. Leadership and broad involvement in sport and co-curricular activities supplement a meaningful classroom experience.
Senior Secondary
The Senior years at Calrossy (Yrs 10, 11 and 12) are designed to prepare students as 'life-ready', equipped for employment and tertiary study beyond school. They recombine in coeducational classes to learn from and with each other to prepare for their HSC studies. Whilst Calrossy students have long achieved excellent academic success, developing outstanding graduates, who make a difference, is also a central part of the focus.
Calrossy is a non-selective school that is open to families and students from all walks of life, whether it be Tamworth, the local region, all over New South Wales and even overseas. A delightful feature of our School is that our unique environment allows students and staff to be part of one big and happy family.
Whilst I trust you will find much of what you need online, I invite you to visit one of our campuses in Tamworth, where the character of Calrossy and the culture and 'vibe' of our students can be observed first hand. We would love you to come and join us.
David Smith M.A, B. Ed (Distinction), Dip. Teach, MACE, MACEL.
Principal