A Diamond School
The structure allows Calrossy to tailor teaching and pastoral care more acutely and sensitively to meet the gender-specific needs of boys and girls, especially during the crucial and formative years of adolescence.
Calrossy Anglican School is a "Diamond School" meaning boys and girls are taught together until Year 6, separately from Year 7 to Year 10, then combine for classes in the senior years.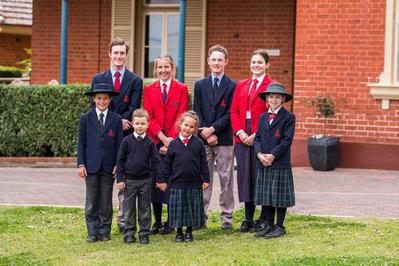 Calrossy is believed to be one of only a few diamond schools in Australia and has become a leader in this innovative approach. It allows the school to be small enough to retain a supportive school community but with the resources and curriculum choice of a larger school.
This unique learning environment provides a Christian education based on strong academic traditions full of rich and diverse experiences and delivers the best of both worlds… the "Diamond School" advantage. In 2021 Calrossy will embark on a new structure in Secondary while remaining committed to the "Diamond" model, please see the link below.
What will the Diamond Model look like in 2021
Student for a day - How our unique model benefits students in the classroom
THE BENEFITS OF THE "DIAMOND" MODEL IN THE CLASSROOM
For a closer look at "The Diamond Model" and what it means for your child, take a look at the 60 Minutes Report link below.

60 Minutes Report.