Kamilaroi Shorthorns
---
Our Kamilaroi Shorthorn calf created history by selling for $75,000, a breed record price which still stands today.
---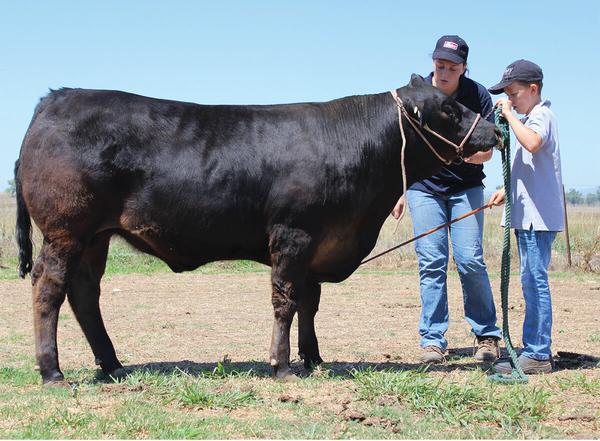 Calrossy has a long and proud history of involvement in the showing of livestock, particularly steers. In 2003 it was decided to add an extra dimension to the program by establishing a Shorthorn stud, in the belief that this would enable us to offer a far more extensive range of activities for those students interested in the beef industry specifically, or agriculture in general.
Kamilaroi Shorthorns became a reality in 2004 with the purchase of a cow and calf and three heifers. Our first appearance as vendors at the 2006 Shorthorn National Show & Sale really put us on the map, as the aforementioned calf created history by selling for $75,000, a breed record price which still stands today.
Kamilaroi Shorthorns went to a new level following the acquisition of the property "Tangara". We currently run around 45 breeding cows, which is probably the upper limit for the block. Most females are joined using AI each year and Kamilaroi yearling bulls are used as cover bulls.
Each year we select those animals we believe to be our best; the bulls and heifers are shown at various events including Sydney Royal. The bulls are then prepared for Sale at the Dubbo National, while the elite heifers are joined and take their place in our herd. Steer calves are either shown in hoof and hook competitions or sold locally. Heifers are sold through local saleyards.
While the sale of a bull for a new record price would be the main highlight for Calrossy Kamilaroi Shorthorns, there have been other significant happenings – for example:
At the 2014 National, Kamilaroi bulls achieved the highest sale price ($17,000) and the highest average price ($9,600). We were awarded the perpetual trophy for Best Team of Three Bulls. Our bulls were place 1,2 3 in one show class and 1,2 in another. Kamilaroi Meat Packer was the Division 4 Champion in the show section of the event. Meat Packer genetics have been exported all over the world by his new owners.
At the 2015 National we again achieved the highest sale price ($16,000) and highest average ($8,750). We retained the trophy for Best Team of 3 Bulls. Two bulls placed 1st in their class, while three other bulls achieved minor placings.
Arguably the most notable feature overall, however, is the depth of hands-on involvement by students in the operation of the stud and the preparation and showing of sale cattle. Calrossy students are known throughout the Shorthorn world for the quality of their work. A surprisingly large number of them have started their own studs or are heavily involved in family operations after graduating from Year 12.