What is eCalrossy?
eCalrossy: an inventive distance education program.
If you are seeking independent school education but six years of boarding school is not an option, eCalrossy may be a solution.
Full-time distance education which commenced for Year 7 in 2021 has now expanded to include Year 5, 6, 7 and 8 with Yr 9 to be added in 2023. eCalrossy is a great option for those looking to study with the support of a school community, as an alternative to boarding.
Calrossy have also identified the need for un-interrupted education for those families that travel outside of NSW. eCalrossy will allow you to continue with an NSW based education at a high standard.
What is eCalrossy?
Full-time distance education for Year 7 and 8 in 2022, now expanding into Year 5, 6, 7, 8 and 9 for 2023.
Students are in almost 100% of school time in contact with their teachers and fellow distance education students. This allows online interaction between students with facilitated discussions and group work.
All course work and learning is computer and technology based. There is no 'old fashioned' physical mail of learning materials to/from school.
eCalrossy is a dedicated distance education class where the teachers' focus is purely on the distance education students during that lesson.
Students follow a typical school timetable and are taught by Calrossy specialist teachers for each subject.
The eCalrossy class is co-educational.
Is it as good as being at Calrossy 'in person'?
There are many different benefits to distance education. eCalrossy allows students to begin connections between students and teachers without being physically in the same place. We have identified how important these connections are and want to ensure the physical distance will enhance learning and social skills that may be learnt on campus.
eCalrossy distance education students may not have the same language options (in Year 8) and elective offerings (Year 9) as internal Calrossy students. For distance education students, these will be selected for them.
eCalrossy distance education students will not have access to the sports and other extra-curricular offerings other Calrossy students have to develop their interpersonal and team work skills.
eCalrossy has a shortened day of 8.40am to 1:25pm. This however does allow students to pursue extracurricular activities after hours.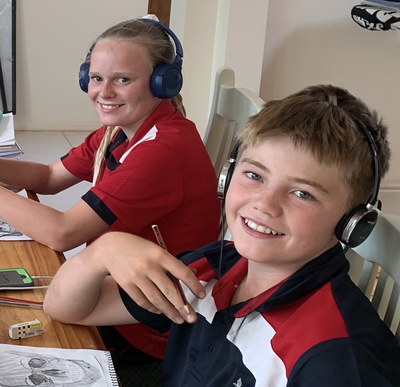 Using technology to full benefit
Each distance education student at Calrossy will be issued with a school set-up MacBook and be oriented into its use in the January residential week.
Video conferencing software enables dynamic interaction, interactive teaching and active learning to take place for almost all of the distance education student's school day.
Interaction between students can be facilitated, including discussions and group work.
Monitoring software provides teachers with the means to be aware of students' use of the school-issued MacBook.
Advantages
Access a quality independent education earlier in secondary school than might otherwise be possible.
Following the NSW curriculum.
Taught by Calrossy's specialist teachers.
Calrossy has the record of the best HSC outcomes of any school in the New England/North West of NSW.
Forward-thinking use of ICT for distance education and potential home schooling options.
Easy progression to Calrossy internal student from Year 10. Students will already be used to Calrossy's educational standards and expectations and have developed relationships with teachers and other students alike.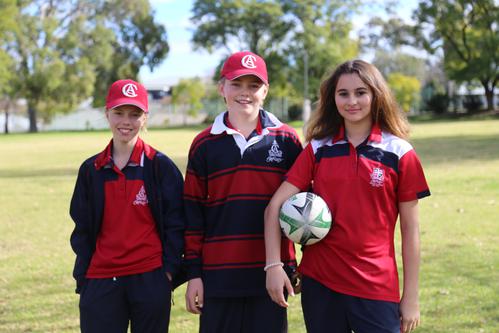 Residential schools
There are 3 compulsory residential sessions in which distance education students stay in Calrossy's boarding houses and participate in educational and social experiences to supplement the distance learning.
The residential sessions are required by NESA in order for Calrossy to meet educational requirements so that students can work towards a Record of School Achievement (issued by NESA) in later years.
Residential sessions will involve Science practicals, practical PDHPE, History/Geography fieldwork, Technology hands-on experiences and social opportunities.
The residential session costs are covered within the school fees paid by distance education families (apart from transport to and from).
The three residential sessions will take place in mid-January, early July and early October (when other Calrossy students are on holidays), each requiring attendance for all of Monday to Sunday afternoon.
The residential weeks are proving to be a valuable time fo the students bonding as a group. This means they are far more comfortable with each other in the online lesson environment.
Residential weeks provide a valuable taste of living in a boarding school.
When is it offered and for which years?
Operating for Years 5, 6, 7, 8 and 9 in 2023.
Optional Activities
eCalrossy students may attend and compete in the School's swimming and athletics carnivals, potentially leading to representing the School at higher levels.
eCalrossy students may choose to join the expedition/camp with the internal students. This will have a cost associated with it.
The above opportunities allow eCalrossy students to meet and build connections with students their same age as well as broaden the educational experience.
After Year 9
A student who enrols in Calrossy's eCalrossy distance education program will only be able to continue this mode of learning until the end of Year 9. However we offer a supported pathway becoming an internal boarding student in Year 10.
In Year 10 he/she is encouraged to become an internal student at Calrossy for the senior years of secondary.
Students who complete Years 7-9 via Calrossy's distance education will not (yet) be eligible for a RoSA issued by NESA, however if they continue as an internal student in Year 10 at Calrossy, the School can verify that they have met NESA's requirements and he/she will be eligible for the RoSA or, by Year 12, the HSC.
Calrossy will issue a report to another school listing requirements towards the RoSA which have been met should a student transfer to another school after having been a Calrossy distance education student.
What is required of students & parents?
A suitable physical environment and supportive situation in which your child can participate in the Calrossy distance education program.
Appropriate supervision of your child.
A commitment to enabling your child to attend all 3 of the residential weeks at Calrossy.
A suitable internet connection to enable the video conferencing. Support is also offered by Calrossy's internal IT department.
A commitment to the child 'attending' their distance education lessons 8:40am to 1:25pm (NSW time) each school day.
Payment of the Distance Education Program fees, ICT levy, as per the fee schedule and payment of costs for the listed sports, uniform items and travel to Tamworth for all the residential sessions.
An enrolment interview to assess mutual suitability and expectations of the distance program, the school, the student and the family.