Kindergarten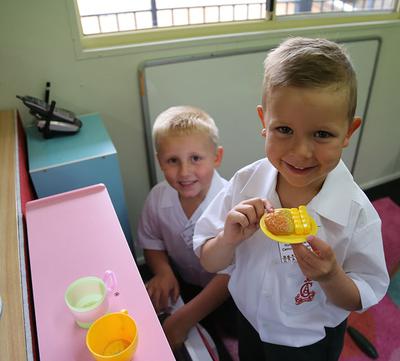 The small size of classes at Calrossy creates a supportive and personal environment that encourages the development of confidence and learning for every student, every day.
The development of numeracy and literacy skills provides the foundation for future learning and opportunities for cross curriculum learning. Calrossy also acknowledges the value of play and active learning.
Transition to Kindergarten is supported by a Kinder Readiness program in Term 4 of the year before children begin formal schooling. These allow the children to become familiar with the routines and operation of 'big school'. Specialist teaching staff work alongside classroom teachers developing the areas of Library, Music, Languages and Christian Studies. The use of Technology as a learning tool is introduced in Kindergarten. The children have access to a range of devices including desktop computers, a smart board, laptops and ipads in their classroom. They also begin basic coding and computer programming using interactive equipment and robotics.
For further Health information on the National Immunisation Schedule click here
To download the latest guidelines on exclusion periods surrounding infectious diseases click here