What does a day in boarding look like?
A typical day in boarding at Calrossy;
Monday-Friday
6:50am Wake-up bell. Boarders are required to begin to get ready for the school day
7:15 - 7:45am Breakfast in the Dining Room
7:45-8:30am All boarders return to their dorms to continue their preparations for the day.
Beds are to be made with personal and common areas to be left clean and tidy before school.
8:10am Simpson Only – Boys are collected from the boarding house and taken to the day school.
8:30am Boarders bell. This is the signal for boarders to leave the dorms.
8:40am Bell to go to class.
3:00pm/ 3:25pm End of day school. Boarders return to the dorms and prepare for afternoon activities, such as school sports.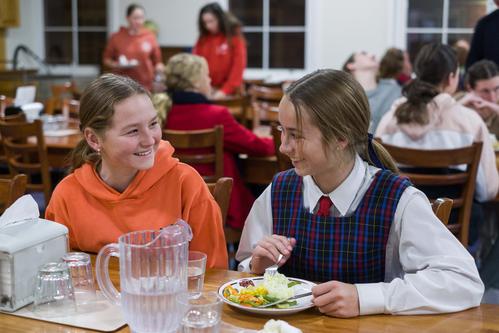 5:10pm Dinner: 1st Sitting at the Brisbane Street Campus - Secondary Girls
5:30pm Dinner : Simpson House - Secondary Boys
5:50pm Dinner: 2nd Sitting at Brisbane Street Campus - Secondary Girls
6:30pm Prep (please note that there is no compulsory Prep on Friday & Saturday evenings)
Year 7 6:30-8pm
Year 8 6:30-8:10pm
Year 9 6:30-8:20pm
Year 10 6:30-8:30pm
Year 11 6:30-9pm
Year 12 6:30-9:30pm
8pm Supper in Dining Room for boarders when leaving their Prep areas.
After Prep All Boarders return to their dorms and spend some time getting ready for bed, phoning home etc…
Bed times/ Lights Out
Year 7 9pm
Year 8 9pm
Year 9 9:30pm
Year 10 9:45pm
Year 11 10pm
Year 12 Are to be in their own rooms and quiet by 10pm
Saturday
Until 8:45am Breakfast is not compulsory.
9:30am Dorm Inspection, boarders are expected to be dressed.
11:30am Street Leave. Boarders are allowed unsupervised street leave with a group of friends. Saturday morning street leave is out of uniform.
12pm Lunch in Dining Room
Afternoon Sport and other planned recreational activities.
5-6pm Dinner
After Dinner A range of activities are on offer before bedtime.
Bedtime Year 7 9:15pm
Year 8 9:15pm
Year 9 & 10 9:45pm
Year 11 10pm
Year 12 In own rooms by 10pm
Sunday
Breakfast Breakfast is served from 7:45-8:30am
9:30am Dorm Inspection
9:40am Boarders attend Church. Senior Boarders have quiet time for additional study or relaxation.
12:30pm Lunch
2pm Afternoon recreational activities
Afternoon Optional Prep sessions
5pm Dinner
After Dinner Getting ready for bed, preparing for the week ahead Bedtime/Lights Out
Bedtime is the same as weekdays.