Calrossy celebrates National Science Week
So, Why is Science so important and what is it all about? Head of Science at Calrossy, Mrs Toni King answers these questions and more as part of Science Week at Calrossy.
Science is the study of the physical and natural world and the knowledge that we obtain about them.
At Calrossy the main aim for our Science faculty is to facilitate the development of critical and curious minds in a variety of scientific fields. Our teachers in both our Junior and Secondary School provide students with a holistic experience, making learning not only interesting, fun and relevant but also applicable to real world situations.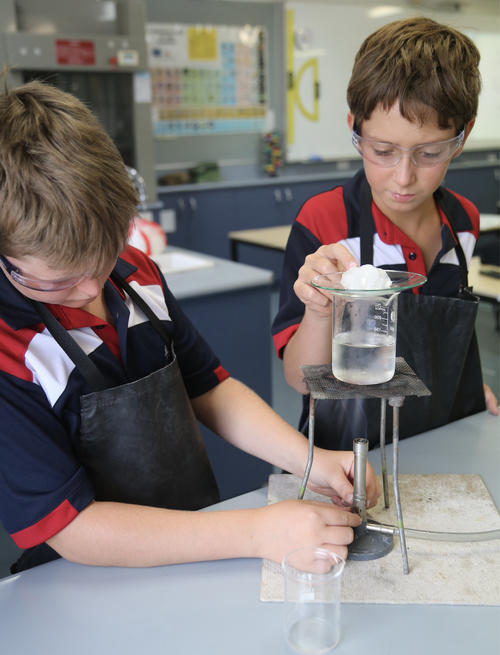 With the recent completion of the new Multi-Use Classroom block on the William Cowper Campus, Calrossy's state of the art Science facilities allow the full spectrum of Sciences to be studied. This range incorporates the introductory sciences in Junior School (with Science Week celebrated from Year 3 to Year 6), through to the senior subjects offered including Biology, Chemistry and Physics plus the newer curriculum subjects, Investigating Science and Earth and Environmental Science, for our HSC students.
"We are so fortunate to have such passionate teachers in the Science faculty and it is a truly wonderful experience to see students that commence their educational journey and knowledge of Science in our Junior school, come through to Secondary with a thirst to learn more. We take that knowledge and curiosity to challenge our students, developing skills in practical investigations, problem solving and analysing and communicating information, which helps them gain an understanding of the world we live in and an ability to apply this understanding to everyday situations" said Mrs King
This passion for Science from our teaching staff has obviously had a positive effect on our Calrossy students with six HSC students obtaining top five in the State placings in both Physics and Biology in the past four years. In addition to this, many Calrossy Alumni now have outstanding professional careers within the fields of Science.
To see Mrs Toni King talking to Principal Mr David Smith in celebration of Science Week, please click here