Calrossy leaders have their say on change to vote
Story and photo courtest of the Northern Daily Leader
If a 16-year-old can drive a car, pay taxes, enlist in the army, pay rent, and work full-time - should they also be allowed to vote?
The 'Make it 16' campaign was launched nationally in federal parliament on June 14, and the Leader asked local young people what they thought.
Calrossy Anglican School Year 12 students Yvonne Sutton and Sophia Hanson said young people are increasingly becoming more politically and socially aware.
"It's honestly fair that young people can have a vote and have a say on relevant issues," 17-year-old Ms Sutton said
"Especially with social media there are a lot more 16-year-olds who know what is going on politically," 17-year-old Ms Hanson said.
"However, it is still very new and there are a lot of 16-year-olds who are still very unaware."
The campaign urges politicians to lower the voting age to allow 16 and 17 year old's have a say in elections and the upcoming Voice to Parliament referendum.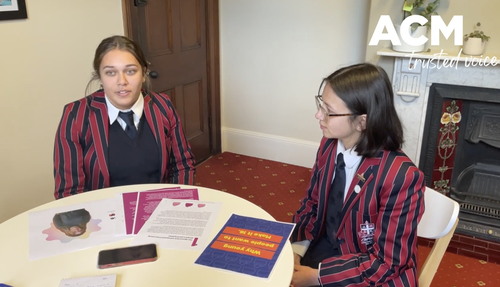 The lower age requirement is already a reality in a number of countries, including Austria, Ecuador, Argentina, Malta, Scotland, and Wales.
However, local teens say there are still concerns and questions that need to be addressed.
"When I first read about the 'Make it 16' campaign, I initially thought it'd be a good idea," Ms Hanson said.
"But, then as I spoke to a couple of people around me to get a feel about what they think on the topic, a lot of them immediately said 'no', especially those with siblings who are in younger demographics.
"Hearing that feedback from people made me think that with 16-year-olds now, a lot of them will not be ready to vote. I'm kinda on the fence about it."
One proposed solution is introducing early education in schools on how democracy works.
"If young people knew they got to vote that year they'd start to think, 'Oh, I need to educate myself on different parties in parliament house and what issues they are pushing for'," Ms Sutton said.
Sophia and Yvonne are both on the Tamworth Youth Council.