Calrossy scoops the pool at Tamworth Eisteddfod
The stage at the Tamworth Town Hall has been a hive of activity over the past week with performances in a range of categories in Music and Dance including soloists, duets, rock music, and classical.
At the end of competition yesterday, Calrossy results were as follows;
Music
Secondary Choir - 1st place
Junior School Choir - 1st place
Infants Choir - Highly Commended
Stage 5 - 9/10 ensemble- 1st place
Primary Concert band - 1st place
Jazz band - 2nd place
Years 7/8 Advanced ensemble - 1st place
Calrossy Orchestra – 3rd place
Calrossy Rock Band – 1st place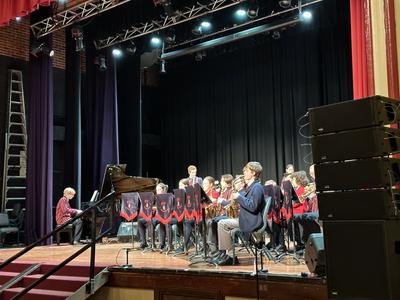 Dance
Year 11 Dance Class in Stage 6 section – 2nd place
Years 7-9 Dance group - 2nd for their Lyrical piece, 3rd for their Contemporary dance
Junior School Stage 1 & 2 – 1st Place
Junior School Stage – 3rd Place
Calrossy Anglican School music student Annabel Scott said the eisteddfod is a great way to meet other like-minded performers.
"It's so fun getting together with a bunch of music people," she said.
"Playing in various ensembles gives you experience if you want to play in bigger or professional ensembles. Also, we have the chance to jam with some of the other musicians."
Principal Mr David Smith said "This success is the result of a lot of time, hard work and rehearsals from the Music and CAPA staff and our enthusiastic students. Congratulations to everyone involved"