Calrossy students bouncing into 2022 with new Multi Courts.
In 2022 the students on the William Cowper Campus will be accessing two new purpose built and fully enclosed Multi Sports Courts. Over the last six months we have been watching a once underused grassed area become something spectacular and undergo a transformation. These new courts will replace the existing asphalt courts and are situated in close proximity for ease of access by all students and staff on Campus. When the weather permits the temporary fencing will be removed to reveal this amazing facility.
Head of PDHPE Mr Mark Lange said the benefits from this court development for our students will be through the improvement of movement skills, whilst they continue to develop tactics and strategies in game play through the flexibility the courts afford our Academic staff. While our youngest members of the Calrossy community will also enjoy a perfect learning space to enhance their fundamental movement skills. This will ultimatly increase the transitional platform from Junior School to Calrossy 7-9 in terms of physical literacy and activity.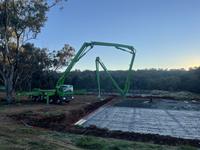 In addition to the new courts, Calrossy Anglican School has worked in partnership with the Student Representative Council and the Calrossy Parents and Friends to enable a fantastic learning space for the students to be created. This space will allow for classes to receive instruction in the tiered off-court section and then hit the courts to play, or even have a class outside. Our Academic staff have a selection of sports available in Netball, Basketball, Tennis, Volley Ball, 5-aside Soccer, or an adaptation of cricket that can be played on these courts.
Master Plan Committee Chair Mr Hugh Castleden said as part of our William Cowper Campus Master Plan, we are committed to improving facilities to support high quality teaching and learning and student cocurricular activities across the Campus from our Prep to Year 9 classes.
Look at how this space has been transformed with our time lapse footage of the surrounding earthworks – fencing and coating of the courts.