Calrossy students connect and deepen intercultural understanding and awareness.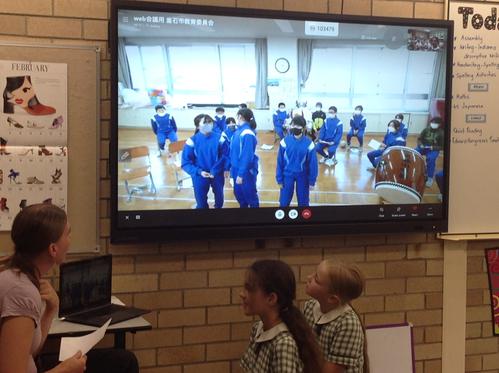 For the past two years Calrossy Junior School has been involved in a communication link up over Skype with the city of Kamaishi in Iwate prefecture in Northern Japan. There are 14 schools in Kamaishi that participate which are split between Primary School and Junior High Schools (7-9).
This term, Year 5 have had the opportunity to communicate with one of the smaller schools in Kamaishi City. The Kuribayashi Primary School has just 42 students and our two Year 5 classes put together a presentation about various aspects of Australia and Tamworth life to present in both Japanese and English to the Year 5 and 6 class in Japan. They in turn, also put together a presentation in both English and Japanese for our Calrossy students to listen to and learn about the Kamaishi region and Japan.

Calrossy Year 8 Japanese class will also have the opportunity to present to the Japanese school on the 4th of March and have been working on a presentation to share with a Junior High School from Kamaishi city.
There are so many benefits​ for our students participating in this exciting exchange as it builds confidence in communicating in both languages, the students are able to see a practical side to using the Japanese they learn in class, as well as help students develop a stronger understanding of Japanese culture from the perspective of students their own age living in Japan.
As part of the link up, students also have the chance to ask and answer questions from each other which further helps to connect and deepen intercultural understanding and awareness.
Calrossy Junior School students usually participate in one or two link ups during the term, with our 7-9 students skyping twice a term.