eCalrossy option for Yrs 5 & 6 in 2022
(Cover photo and story provided by the Northern Daily Leader).
Calrossy Anglican School's distance education program 'eCalrossy' may soon be available for students in years 5 and 6.
It currently has a year 7 class with 11 students from areas of the state like Narrabri, Broken Hill, Barraba, Tibooburra, Whitecliffs, Walgett and Sydney. with students given an Apple Macbook to complete their studies from home, and their teachers dedicated to online, long distance learning.
Calrossy deputy principal Mark Doran said the idea to extend this option to younger students came about from parents with students in this current class.
"A number of weeks ago we started to put out that it was an option we were considering and see what the demand is whether it was part of our decision making process to determine whether we would go ahead with that or not," Mr Doran said.
"So far the feedback from families involved in eCalrossy has been very positive, and this is the reason that they not only are promoting the program amongst other parents, but have also put in the request for us to consider a year 5 and 6 class."
Narrabri mum Jon-Maree Baker has her son Clint enrolled in the year 7 class, and she said eCalrossy was "fabulous".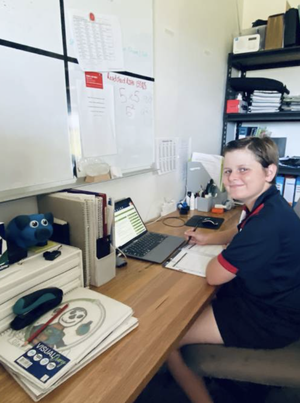 "The flexible format means that he's at school from 8.40am-1.30pm and all his learning is delivered online with face-to-face interaction with all of his classmates and the teachers on Zoom," Ms Baker said.
"For us it's been really exciting to be able to be part of it, and for Clint, he can learn at his own pace, he can rewatch the video that might be shared or can go back over the sheets and the lesson that he's done."
She said there were a number of reasons for their decision to have Clint enrolled in the online learning program.
"We've got a home business, so it really works well, and we didn't want to send Clint to boarding school early, and this has given him the flexibility to do it at home and not have to travel an hour on the bus morning and night," she told the Leader.
"I think for us eCalrossy was him being able to learn at his own pace and Clint's quite dyslexic so for him to be able to use technology is important, where he uses speech to text and text to talk."
Mr Doran said physical components of the curriculum weren't forgotten, either.
"The eCalrossy students come into a residential program for three individual weeks throughout the year, and during this time, they live in the school's boarding houses when other students are on holidays and they're involved in an intensive program focused largely on the practical aspects of science, technology and PDHPE," he said. If you would like more information on Calrossy's eCalrossy initiative, please contact Mark Doran on 5776 5100.