Junior School Green Thumbs
As you drive up Moore Creek Road to the William Cowper Campus you might catch a glimpse of the Junior School Garden.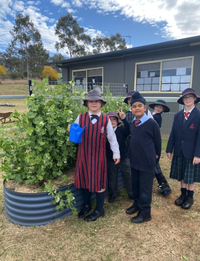 Calrossy is all about Learning, Growing and Serving and the Junior School garden is definitely growing thanks to lots of rain and the generous support of the Calrossy Parents and Friends.
Head of Junior School Ms. Claire Dalziel said "it's been amazing having the garden in this new location. Our School has always had a garden and a place for students to learn outdoors".
Parents and Friends President Russell Ison went on to say "this is a magnificent project and one we were privileged to be involved with. As we all know exciting developments occurring across the campus have made it hard for these young green thumbs to tend their garden in the previous location."
The Junior School resident gardener Mr Laurence Tockuss is having a well-earned break this year so we wanted to continue his work.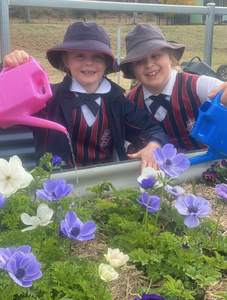 Once the new location was identified the Calrossy maintenance team set to work and built the post and rail fence, installed the wire netting and connected the water.
School Development Coordinator Mr Michael Wilson said "This is another wonderful example of our community coming together. This project is another great way our students can be learning with purpose and has seen the whole school come together, P and F - School Management and the students to create change that matters."
Thank you to our Junior School Enviro Club, student gardeners and Mrs Cartrina O'Mullane for sending in these wonderful pictures and we can't wait to sample some of the gardens produce soon.