Meet Me in the Middle Conference
Calrossy's Womanhood Series has been running for the last two years aimed at empowering and improving the wellbeing of girls in the early teenage years. Spearheaded by our Calrossy 7-9 Leader of Wellbeing, Julie Murrie, the program this year caught the attention of an International Conference on Adolescent Success.
Mrs Julie Murrie presented at the Conference in Brisbane in September dubbed "Meet in The Middle", re-imagining learning and working in the middle years.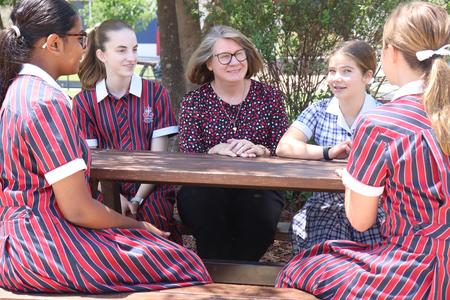 The program has become an integral part of the Wellbeing program in Calrossy 7-9 targeting Year 8 girls.
Mrs Julie Murrie explains the program.
"The Womanhood Series is a school-based program designed for Year 8 girls to create an opportunity for young women to pause and consider this important stage in life as they transition through adolescence into adulthood."
The Calrossy program is presented as seven one-hour sessions where the girls consider the contribution of women to society in the past, they reflect on the current role of women and are challenged concerning their role in shaping the future.
"A consideration of gender equality and its effect upon relationships lays a foundation for discussion around the objectification of women in the media."
"The program also looks at the MeToo movement and the students are exposed to an alternative form of romantic behaviour involving the seven steps to intimacy. The girls engage in discussion and activities concerning their role in supporting each other, their school community and women in other parts of the world."
The focus of each individual session can be seen below;
Women in Society - Historical Perspectives and Role Models
Future Focus and Female Firsts - Aspirations and Expectation
Sexualisation and Objectification in the Media and Society
Behaviour and Boys - What do I Expect and What do I Accept?
Serving Others - School Community Project
Sisterhood
Healthy Bodies.
Anyone wanting to find out more about the Conference click here
https://adolescenotsuccess.org.au/Conference-2023