Meet our new Head of Boarding
"I am excited about visiting and experiencing the communities from where my boarders come from… I am keen to learn about where my boarding families' live, work, and celebrate their lives."
That's the mission of Calrossy's new Head of Boarding, Natasha Rosky, who wants to explore the north west and the many corners of our state that Calrossy's boarders call home.
The Country Music Capital came calling after years of teaching and working across the globe, Ms Rosky says she found herself pulled towards the ultimate tree change.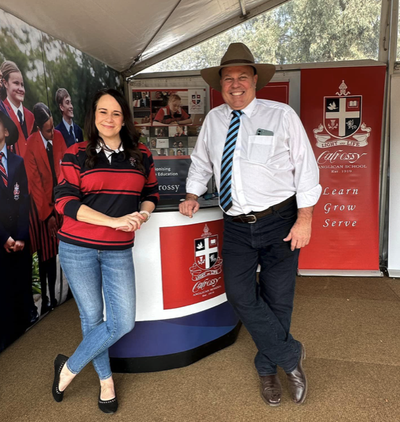 "Coming to Calrossy Anglican School in Tamworth, NSW, was a decision fuelled by a combination of professional and personal factors that resonated deeply with me. The school's esteemed reputation for nurturing holistic education, along with its strong sense of community and academic results, instantly caught my attention. During my first visit to Calrossy, the warm and inviting atmosphere that enveloped both of the school campuses affirmed that Calrossy was the perfect place for me to embark on a new chapter. Thus, Calrossy's commitment to fostering growth and character development in students aligns closely with my own values, making it an ideal destination to contribute, learn, and thrive. Beyond seeking a fresh professional challenge, I was drawn by the prospect of a fulfilling 'tree change,' for my family by moving to the growing regional community of Tamworth and exploring its picturesque surroundings," says the new Boarding Head.
The proud mum of four hasn't come alone, with her three youngest children now also enjoying Calrossy life and learning.
Only a few weeks on the job, those who have met Ms Rosky, can quickly determine she originally hails from Nova Scotia in Canada and brings with her a wealth of enthusiasm and experience in education and boarding. After moving to Australia in 2000, her career path has taken Ms Rosky across several states, including New South Wales, Victoria, and, most recently, Queensland.
"Furthermore, my passion to education and travelling allowed me to teach throughout the world, with spells at international educational schools in countries as different as South Korea, the United Arab Emirates, Malaysia, Borneo, and Ethiopia," Ms Rosky explains.
(above) Natasha Rosky, with new Head of Simpson House, Roger Sattler.
Throughout her 20-year career she has actively assumed numerous leadership responsibilities in both coeducational and single-gender school settings. Her most recent position was Head of Humanities, Boarding Academics Coordinator and Assistant Boarding Housemaster at The Southport School (TSS), located on the Gold Coast.
"During my time at TSS, I loved part of the boarding leadership team, living on campus to help run one of their four senior boys' boarding houses."
She says boarding and education was a natural fit for her and that her philosophy is simple.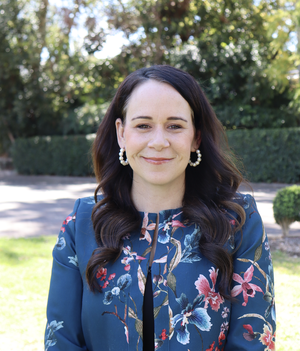 "I've always thought of myself as a 'people person,' thus I am driven to make meaningful relationships within a community. My experience in boarding schools have led me to believe that the boarders, together with the larger boarding community, are the very core of a boarding school's identity. This belief fuelled my aspiration to be a part of Calrossy's boarding community, as I want to be a part of the rich tapestry that is boarding school life," says Ms Rosky.
For those of you that haven't yet met her, the tapestry of the school is even richer with the addition of Ms Rosky. Her commitment to Calrossy coupled with her friendly leadership style promises to be something that boarding families and students will eagerly welcome.
"I would characterise my leadership style as that of a Transformational and Servant Leader, someone who places high value on fostering a culture of teamwork, empowerment and moving with the times. I believe in honouring established traditions whilst remaining open to forward-thinking changes that arise from collective input and the active involvement of my boarders, families and staffing team," she says.
Ms Rosky says trust, communication and collaboration are three key ingredients for successful boarding relationships and her focus is firmly on a sense of belonging.
"The most significant challenges I perceive in boarding education encompass fostering a sense of belonging and emotional well-being for boarders, while effectively balancing academic rigour within a nurturing environment."
Although she is still becoming familiar with Calrossy, Ms Rosky already has plans to hit the road and communicate with our families on their home ground. Over the next few weeks, Ms Rosky, along with our Head of Enrolments - Mrs Courtney Coe, will be attending informal 'meet & greet' events in the various communities that our boarders draw from so be sure to keep an eye out for those details.
While most people might hesitate to take on any job involving teenagers and lots of them, Ms Rosky welcomes the challenges which she says are outweighed by the rewards.
"Witnessing the transformation of boarders into confident and independent individuals is a profound reward for me. It's immensely fulfilling to contribute to their personal and academic growth whilst nurturing a vibrant and supportive community within a boarding environment. In fact, it was during my time in boarding at TSS, that I was inspired to pursue a doctoral degree at QUT researching the role of Consent Education in Australian boarding schools" she says.
In between the long, and sometimes, unusual hours that go with the job, you will likely find Ms Rosky out and about with her family exploring her new found playground.
"Nature has a big pull on me. I find enjoyment in outdoor activities like camping, bushwalking, horse riding, and boating. My days are enriched by spending time with my families and friends as well as leading an active lifestyle that includes yoga, cycling, and running. Likewise, supporting community, The Arts and life-long learning pursuits all hold a special place in my heart."
Watch this space as Calrossy and country kindness etch their own special places in her heart.