New garden for Junior School
Our Junior School resident green thumb, envrio club coordinator and dedicated classroom teacher Mr Laurence Tockus is taking some well earned time to focus on his health at the moment. Knowing how much the veggie patches mean to Mr Tockuss and the students of the Junior School, the Calrossy Parents and Friends took on a very special project to relocate the veggie patch and give it a new home that is away from the construction zones and closer for everyone to access.
Over the last few months the veggie patch project with the P and F has grown from four steel posts in the ground to a full blown steel post and rail fence with animal netting and 10 brand new steel garden beds. This week we welcomed the support of the Year 6 class of 2021 who put their hands up to help load the beds with soil and plant out the donated veggie seedlings curtesy of BASF Agricultural Solutions and to bring a smile to Mr Tockuss' face. Head of Junior School Miss Claire Dalziel said she was blown away by the support for this project for the efforts of so many and we appreciate very much our communities support. Thank you so much for making this happen. Mr Tockus is a much loved member of our staff and always has something happening in the veggie patch which has allowed a different outlet at lunch times for our students to go and help, plant, weed and harvest the produce".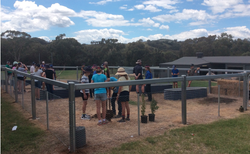 P and F President Mr Russell Ison said we are all very appreciative of the dedication and time that Mr Tockuss and the students have put into the veggie gardens. As a P and F we have supported these efforts over the years and one highlight for me was the donation of the pumpkins that was made to Ronald McDonald House in Tamworth which made, from memory, 20 litres of pumpkin soup."
This is going to be a fantastic asset for the future of the Junior School and will allow for the students and staff to put into place some of the learning within the classroom into practice.