The Calrossy 2nd XI Wiburd Shield team digs deep in Third Round Match
---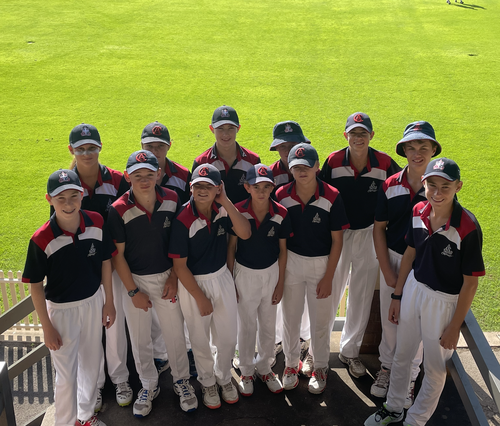 The Calrossy 2nd XI Wiburd Shield team travelled to Maitland to play Hunter Valley Grammar in their 3rd round match today. Before the bus rolled out, School and First XI Captain, Matthew Holmes, climbed onboard to wish the team all the best for a great match. Along with a reminder of what it means to represent your School. It was a great thing to see from a young leader.
Calrossy lost the toss and bowled first on a turf wicket that was very well prepared considering the recent wet weather. The intent from Calrossy was clear from the beginning in the field with some moments of brilliance. Before the first drinks break Tom Aitken picked up the first wicket. Our bowlers Tom Holmes 2/27, Tom Aitken 2/29, Doug Brisset 2/34 were the main wicket takers. Ultimately missed chances allowed Hunter Valley to score a very competitive total of 7/151 off 40 overs.
Calrossy Captain Tom Aitken (24) strode to the crease and dug in for a Captains Knock and batted for 24 overs. After loosing early wickets, Tom formed a steadying partnership with Ben Kelly who showed some Barraba grit and determination, along with Tom Holmes in the face of some great bowling.
Calrossy were eventually dismissed for 63 off 30 overs.
Team manager, Mick Wilson said "This is a young team who played a seasoned group and performed well and displayed resilience beyond their years. This is also the first time in many years that our School has progressed this far into the statewide competition. The really exciting thing for us now is that this group will be together for the 2021/22 season and with some more time in the nets, we hope to go further next year."
On behalf of Calrossy, Shawn Mepham and Jackie Holmes we would like to thank each of the squad members for their commitment, sportsmanship and how they played the game. We would also like to thank the parents who have supported us on the sidelines and from afar at our away games.
Our attentions now turn to the First XI Douglas Shield to be played at Riverside 1 next Tuesday 9th March.