Congratulations and all the best for the future Geoff Nielsen
Geoff Nielsen has been part of Calrossy Anglican School for 19 years as part of 40 illustrious years providing agricultural education.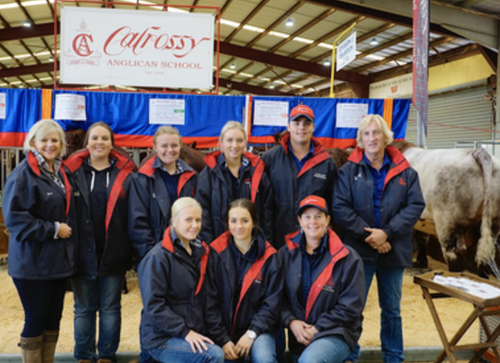 In addition to schools, Geoff spent nine years Lecturing in Grazing Systems Management at Orange Agricultural College (University of Sydney) and 5 years as their Farm Management Course Co-ordinator. Geoff is married to Brony with two children, Tom and Claudia, who are also bothCalrossy Alumni. Geoff's teaching has also drawn on his previous experiences operating a family-run Limousin stud cattle herd from 1991-2011. Through his diverse agricultural involvement, Geoff developed a range of innovative ideas that he was keen to see adopted when he came to Calrossy and the school has greatly benefitted from this.
Geoff, as fondly referred to by his students as a sign of respect) has taught Primary Industries, Certificate II Agriculture along with Certificate III Agriculture (that is only offered by a few Schools in the State) while also capably and passionately developing and managing our Tangara Trade Training Centre. Throughout his time at Calrossy he has supported the Indigenous students of Calrossy and held many other additional roles such as a stint as boys' rugby coach and manager of girls' rugby and hockey teams.
Geoff's passion for all things agriculture is clear to see for anyone that has had the pleasure to speak with him. He built on the work of the previous staff and changed the delivery of agricultural education, taking it to a new level to truly challenge his students. His passionate, intelligent, and insightful teaching endeared him to all of his students. Geoff led from the front, always ensuring the students took charge and worked collaboratively of the various practical activities associated with running an effective working farm. Geoff has said on many occasion that Calrossy students are great people and we, as teachers, are lucky enough to be given a unique opportunity to teach them and expose them to new experiences things such as managing a sustainable farm, operating a stud cattle enterprise, custom feeding of cattle for show, along with sale and promotion, marketing and selling stud cattle at a multi-vendor national sale.
Geoff was heavily involved with the establishment of Calrossy's Kamilaroi Shorthorn Stud, in 2004, since then transforming it into a brand that is now recognised both nationally and internationally in the beef cattle sector. He has been an integral part of the Calrossy Cattle team working with Brony Nielsen, Kathy De Jong, James Forsyth, other staff and a large and keen team of students that keep emerging through the ranks. Together they have travelled far and wide, competing successfully with stud cattle and steers at district, regional and royal shows, promoting the school's agricultural programs while creating an enviable reputation in the Australian beef cattle industry. You may have been part of this amazing journey and possibly hold very fond memories as a proud Calrossy Ag student or Cattle Team member! This has been a rewarding and valuable way to promote the work of the Calrossy Cattle Program and the efforts of Geoff and the students in how to prepare the animals.
Principal Mr David Smith said, " Geoff is a humble and determined educator who has inspired many young people in our community. The history of top of the state results is impressive, but even more important is that many of his students have left school to contribute and make careers in an industry that is integral to Australian food production. He leaves a wonderful legacy to his time as an educator, something for which we are very grateful."
On behalf of all of the Alumni of Calrossy and the wider community we thank you Geoff for all of your immense dedication, innovative and creative expertise along with your support and encouragement of students and fellow staff members. We wish you all the very best for your retirement and your future direction in Agriculture in the years ahead.
Images -
Cover Image - Geoff speaking with International Shorthorn Breeders who toured Tangara in 2019
Article Image - Geoff and members of the Calrossy Cattle Team at the Sydney Royal Easter Show 2020